Current Issue
Vol. 18, No. 2,
Apr-Jun 2022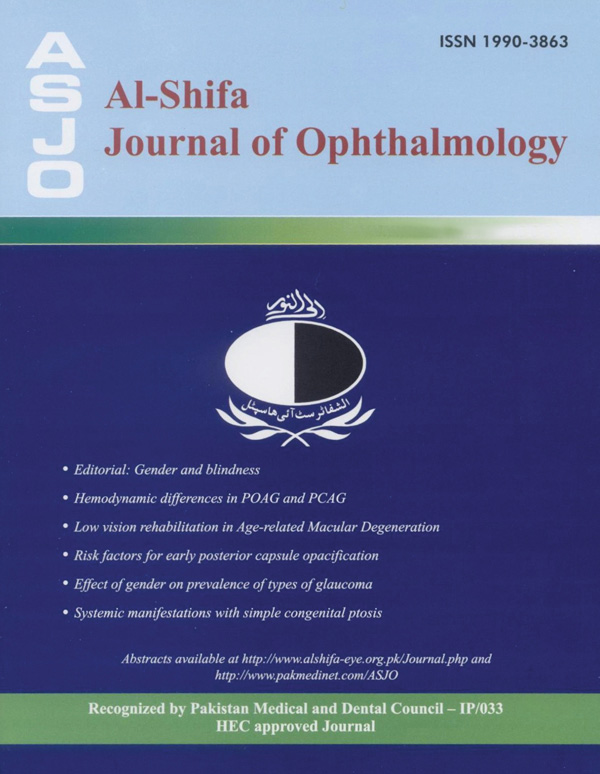 Past Issues - Vol. 9 , No. 2, July - Dec 2013
Al-Shifa Journal of Ophthalmology
Parasitic infections of the eye
Tayyab Afghani, MS

Serum Lipids - A modifiable risk factor for senile cataract
Ammara Javed, Roquyya Gul, Tayyaba Gul Malik, Rabail Alam, Muhammad Khalil, Mian Muhammad Shafique
An observational case control study conducted to identify the role of serum lipids in patients with different types of senile cataract. 78% patients had nuclear cataract, 16% had cortical and 6% had posterior sub capsular cataract. Serum triglycerides and VLDL were significantly raised in patients of senile cataract (p. <0.001). Serum Triglycerides and VLDL are modifiable risk factors in the development of senile cataract.
Diagnostic role of Polymerase Chain Reaction in active uveitis
Hussain Ahmad Khaqan FCPS FRCS FCPS(Vitreo Retina), Muhammad Afzal Mian FCPS, Abida Fida, Farrukh Jameel, Hassan Mansoor
Study was conducted at Lahore General Hospital in which 15 patients were included with the signs of anterior, intermediate or posterior uveitis. Vitreous fluid samples were taken and sent for polymerase chain reaction for Mycobacterium tuberculosis (MTB) DNA. In 4 out of 15 (26.6%) Mycobacterium tuberculosis DNA on PCR was detected. The study concluded that PCR can be effectively used for the diagnosis of intraocular tuberculosis in the presence of clinically identified cases of uveitis.
Frequencies of various ocular pathologies detected on B-scan ultrasonography in patients of ocular trauma.
Gulbano Akram FCPS , Farah Akhtar FCPS, DOMS
This descriptive cross-sectional study was conducted on 162 patients of ocular trauma to determine the frequencies of various ocular pathologies detected on B-scan ultrasonography. The study showed vitreous hemorrhage to be the most common B-scan finding in ocular trauma (31.5%) while 19.8% patients had no abnormality detected on B scan. In ocular trauma patients B-scan can be an excellent tool to examine posterior segment when anterior segment pathology precludes clinical examination.
Prediction of refractive error after intraocular lens implantation in pediatric patients at Al-Shifa Trust Eye Hospital Rawalpindi
Anam Altaf BSc Hons (Optometry and Orthoptics), Sumaira Altaf FCPS
This retrospective observational case study was conducted to determine the refractive error in children after cataract surgery with IOL implantation to evaluate success in achieving postoperative target refraction and to determine the factors which affect the prediction of refractive error in pseduphakic pediatric patients. The children were assigned into three groups depending on the age at time of surgery. Children of age 1-4 years experienced higher myopic shifts and a larger mean rate of refractive change per year compared to older children. Multiple regression analysis showed that corneal radius was the only variable significantly associated with absolute prediction of refractive error.
Prevalence of Ocular Leishmaniasis in district Chakwal
Tayyab Afghani MS, Chaudhry Javed Iqbal, Hassan Mansoor, Sultan Asif Kiani, Mukhtar Ahmed Mirza
The study was undertaken in District Chakwal to measure the prevalence of ocular lesions in cutaneous leishmaniasis. After detection of cutaneous leishmaniasis in a 60 years male presenting to the Oculoplastic Clinic at Al-Shifa Trust Eye Hospital Rawalpindi, a team was dispatched to the health center, Choa Saiden Shah. The area was found to be endemic for leishmaniasis. A total of 925 patients with known cutaneous leishmaniasis were examined for ocular involvement. The prevalence of ocular lesions was found to be about 1%. Ocular involvement in Leishmaniasis should be kept in mind in the differential diagnosis of ulcerative lesions of the eyelid.
Correlation between contrast sensitivity and visual fields in patients with primary open angle glaucoma
Zartasha Khalid BSc (Hons.), Mahmood Ali FRCS FCPS MCPS, Sohail Ahmed M.Phil MCS PGD
This cross-sectional case series was aimed to investigate effect of glaucoma on contrast sensitivity and to assess the relationship between contrast sensitivity and visual field loss in patients of primary open angle glaucoma. A total of 46 eyes were studied of 24 patients out of which male patients were 67% and female were 37%. The Pelli- Robson contrast sensitivity score correlated more strongly with the MD of the visual fields(r=-0.615, P<0.001). For the PSD of the visual fields, the correlation was r=-0.453, P=0.003. The study data supports the conclusion that, the disease process affects the contrast sensitivity.