Current Issue
Vol. 18, No. 1,
Jan-Mar 2022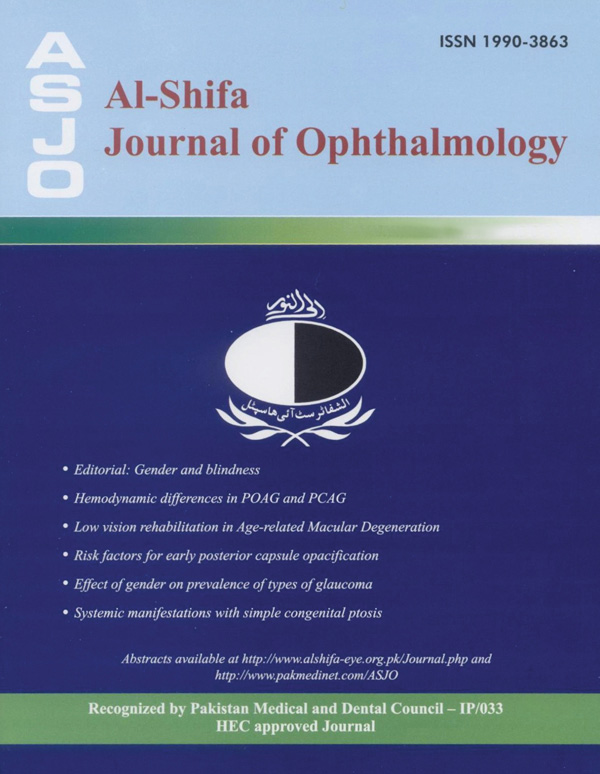 Past Issues - Vol. 8 , No. 1, January - June 2012
Al-Shifa Journal of Ophthalmology
Editorial: Future role of neuroprotection in glaucoma management
Mahmood Ali
Post operative refractive outcomes in scleral fixated intraocular lenses

Saemah Nuzhat Zafar, Sorath Noorani Siddiqui, Sumaira Altaf

Scleral Fixated Intraocular Lenses were implanted in 20 eyes of 14 patients divided into 2 groups on the basis of hyperopic (pupil mostly rendered aphakic) or myopic refractive error (milder subluxation with phakic part in visual axis) and actual post operative refraction were compared. In the preoperative myopic refractive error the difference was 1.100±2.157 D while it was 1.207±1.465 D in pre operative hyperopic refractive error group. Comparison of target refraction and actual post operative spherical equivalent between these groups was not statistically significant (p=0.384 and p=0.039 respectively).
Clinical presentation of Vernal Keratoconjunctivitis in District Swabi
Asif Iqbal, Fakhr ul Islam, Omer Khan Orakzai

This hospital based descriptive study was conducted on 250 patients between age 5 to 25 years presenting with signs and symptoms of VKC.They were all clinically evaluated. The study showed that VKC is influenced by factors like age, gender, poverty, overcrowding, poor hygienic conditions, family history of atopy and previous treatment received.
Pakistan Earthquake 2005: The role of subspecialty hospitals in national disasters - the scope and limitations: modeling the eye hospital response
Tahira Ayub Malik, Tayyab Afghani, Asif Kiani

The study was carried out at Al Shifa Trust Eye Hospital Rawalpindi (ASTEH) and comprises of the scope and limitations faced by ASTEH, a subspecialty eye hospital, when it offered its services to the victims of October 2005 earthquake. 59% of the affected were females. The most common injury was bony fractures in 64% of cases and the most common mechanism of injury was roof collapse. The limitations faced by the hospital have also been discussed. The pattern of ocular injuries observed was a unique opportunity for ophthalmic research workers and health policy makers.
Clinical indications of enucleation surgery

Sarah Zafar, Furqan Ahmed Khan, Mahmood Ali

This observational case series included 60 new cases undergoing enucleation during 6 months period. Malignant tumours (41.66% eyes) were the most common indication of enucleation followed by phthisis bulbi (23.33% eyes) and trauma (16.7% eyes). Retinoblastoma (RB) was found to be the most common malignant tumour diagnosed in 20% eyes. Students comprised 28.33% of the cases followed by farmers / laborers (23.33%) and housewives (13.33%). In terms of socioeconomic status 37 (61.66%) patients belonged to lower class.
Outcome of amniotic membrane transplantation for reconstruction of contracted socket

Tehmina Nazir

Reconstructive surgery and amniotic membrane transplantation was performed on patients with acquired contracted sockets and post-operative measurements were taken on each visit. The preoperative mean height of fornices was 4.18 (SD+-1.98mm) and mean depth was 2.01 (SD+-0.91) and the post-operative mean height was 9.06mm (SD+-3.75) and mean depth was 4.46mm (SD+-1.70). When t-test was applied there was statistically significant difference between the preoperative and post operative measurements of the socket.
Toxic optic neuropathy and bilateral symmetrical putamen infarcts

Saerah Iffat Zafar, Saqib Qayyum Ahmad, Saemah Nuzhat Zafar

This case describes the correlation of the ocular findings with those of neuroimaging in a patient having a history of methanol ingestion prior to development of painless loss of vision.