Current Issue
Vol. 18, No. 1,
Jan-Mar 2022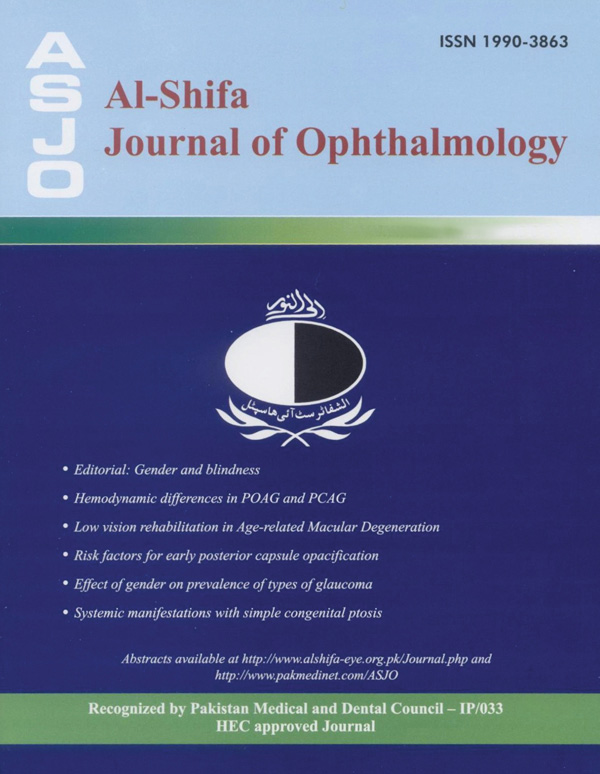 Past Issues - Vol. 7 , No. 1, January - June 2011
Al-Shifa Journal of Ophthalmology
Emerging options in the management of glaucoma
Tayyab Afghani MS
Pattern of glaucoma in patients from two districts of Khyber Pakhtunkhwa

Mohammad Alam FCPS

This descriptive study was conducted on glaucoma patients in Karak and Bannu districts of Khyber Pakhtunkhwa. A total of 430 glaucoma patients were examined among which 291 (67.67%) patients had primary glaucomas while 139 (32.32%) patients had secondary glaucomas. Males represented majority of patients except in case of primary angle closure glaucoma.
Presentation of amblyopia at a tertiary care hospital in Karachi

Sorath Noorani Siddiqui FCPS, Clinical Fellow Pediatric Ophthalmology and Strabismus, Ziauddin Ahmed Shaikh FRCS (Edin) FRCOphth (Lond), DO (Lond), Salma Salim Murad

This prospective study was conducted at Civil Hospital Karachi on 239 children diagnosed with amblyopia. Refractive amblyopia was diagnosed in 128 (53.55%) cases, strabismic amblyopia in 58 (24.26%) cases while 53 (22.17%) cases had deprivation amblyopia. Severe amblyopia was seen in 59 (24.68%) cases with refractive errors and 25 (10.46%) cases with strabismus while all 53 (22.17%) cases with deprivation amblyopia had severe density of amblyopia.
A long term follow-up of laser peripheral iridotomy in Acute Primary Angle Closure

Jamshed Ahmed MCPS, FCPS, Sorath Noorani Siddiqui FCPS, Clinical Fellow Pediatric Ophthalmology and Strabismus

Ninety two eyes of forty eight patients were subjected to YAG laser PI. Mean follow-up period was 48.81(±9.03, range 32-65) months. The commonest intra-operative complication was bleeding from the iris in 33.3% eyes. Thirty six (75%) eyes developed significant cataract. Iridotomy was closed in 6 (12.6%) eyes. Complete success was observed in 12 (24.5%) eyes.
Awareness of diabetic retinopathy among the known diabetics at a tertiary care eye hospital

Mahmood Ali MCPS, FCPS, Wajid Ali Khan FRCS (G), Ayisha Kausar MCPS, FCPS, Farah Akhtar DOMS, FCPS

Awareness and knowledge about retinopathy was assessed in 200 known diabetics on the basis of a face-to-face interview and graded according to the number of correct responses. Knowledge of 72 (36%) patients was found satisfactory. Gender (p=0.000), socioeconomic status (p=0.000), education (p=0.001) and source of information (p=0.000) were significantly associated with awareness.
Clinical presentation and staging of newly diagnosed intraocular retinoblastoma according to international classification of retinoblastoma

Darakhshanda Khurram FRCS MCPS, Naima Zaheer FCPS MCPS, Shadab Hassan FCPS DOMS

In this prospective study the clinical data of presentation and staging of 72 eyes of 51 children with primary retinoblastoma were analyzed. Fifty one patients presented with primary retinoblastoma during this period. Thirty (58.8%) patients had unilateral retinoblastoma and 21 (41.2%) patients had bilateral retinoblastoma. 66.6% of patients presented with leukocoria.
Validity of Frequency Doubling Technology to diagnose glaucoma

Abdullah Naeem Syed FCPS, Naveed Ahmed Qureshi FCPS DOMS, Farah Akhtar FCPS DOMS

The study was conducted on 84 eyes suspected to have glaucoma. Each patient performed both perimetry tests, i.e. Standard Automated Perimetry (Humphrey 30-2) and Frequency Doubling Technology (FDT). The sensitivity and specificity calculated for FDT perimetry were 85.4% and 90.7% respectively.
Cyclic oculomotor spasm and third nerve palsy

Saemah Nuzhat Zafar FRCS FCPS MCPS

Clinical fellow in paediatric ophthalmology, Sumaira Altaf FCPS, Shadab Hassan FCPS DOMS, Ayesha Khan FRCS FCPS Clinical fellow in paediatric ophthalmology (University of Toronto) In this case report cyclic oculomotor spasm occurring in a patient with third nerve paresis is described, which is a rare occurrence