Current Issue
Vol. 18, No. 1,
Jan-Mar 2022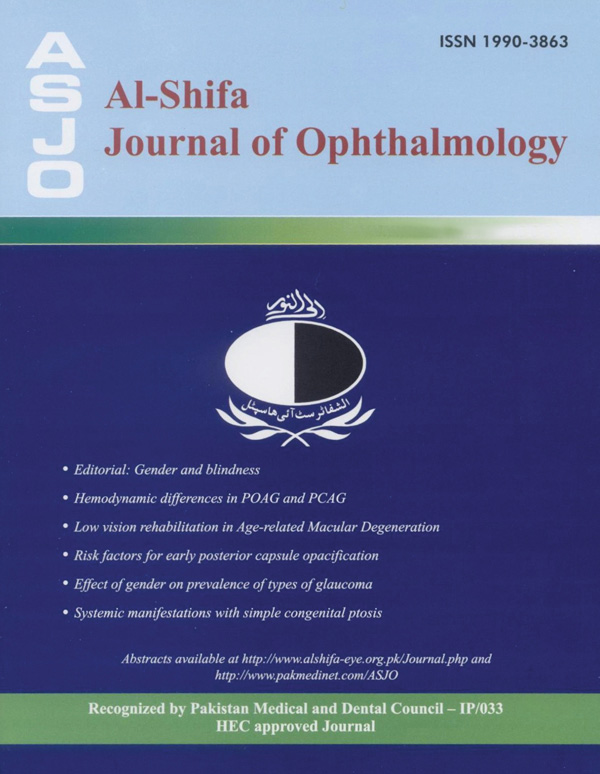 Past Issues - Vol. 6 , No. 2, July - December 2010
Al-Shifa Journal of Ophthalmology
Editorial: Ocular manifestations of adult leukemia- how does it differ from those in children
Tayyab Afghani, MS
Ocular manifestations of Acute Lymphoid Leukemia in children

Sorath Noorani Siddiqui FCPS , Ayesha Khan FCPS FRCS(Ed) Clinical Fellow Pediatric Ophthalmology and Strabismus (UoT)

Out of 13 patients with Acute Lymphoid Leukemia, iris infiltration was seen in 4 (30.76%) patients, disc swelling with other fundus findings in 5 (38.46%) patients while papilledema without other fundus findings was seen in 1 (7.69%) patient. One (7.69%) patient had bilateral optic atrophy secondary to vincristine toxicity. One (7.69%) patient presented with pseudohypopyon and choroidal detachment.
The visual outcomes and complications of intraocular lens implantation in children aged 1 year or less 60

Darakhshanda Khurram FRCS MCPS, Ayesha Khan FRCS FCPS, Mahmood Ali FCPS, MCPS, Sumaira Altaf FCPS, Sorath Noorani Siddiqui FCPS

A total of 30 consecutive eyes of 19 children undergoing IOL implantation at 1 year or less age were evaluated. Mean post operative refraction was +5.97 (±2.60) DS. Postoperative fibrinous reaction was seen in 4 (13.3%) eyes, visually significant PCO developed in 2 (6.66%) eyes while 24 (80%) eyes retained a clear visual axis.
Ocular diseases among school age children presenting at District Head Quarter Hospital Karak

Mohammad Alam FCPS

Out of 1168 patients, 603 (51.62%) patients had refractive errors, 141 (12.07%) had lid diseases, 122 (10.44%) had spring catarrh, 82 (7.02%) presented after trauma, 64 (5.47%) had strabismus, 61 (5.22%) had bacterial conjunctivitus, 37 (3.16%) had lens related disorders, 19 (1.62%) had ptosis, 17 (1.45%) had dacryocystitis, 16 (1.36%) had retinal diseases and 6 (0.5%) patients had glaucoma.
Mono therapy versus double therapy versus triple therapy in the treatment of diabetic macular edema

Naveed Ahmad Qureshi DOMS FCPS, Mahmood Ali MCPS FCPS, Abdullah Naeem Syed FCPS

Fifty eyes of 30 patients with clinically significant macular edema were randomly treated with macular photocoagulation (MPC) [Group 1], intravitreal Bevacizumab (IVB) followed by MPC [Group 2] or IVB and intravitreal triamcinolone followed by MPC [Group 3]. Reduction of mean central macular thickness was more in group-3 (354±110 mm) as compared to group-1 (167 ± 57 mm) and group-2 (278±76 mm).
Adenocystic carcinoma of eyelid: A case report and review of literature

Zulfiqar Ali Khan DOMS, Tayyab Afghani MS

Adenoid cystic carcinoma (ACC) is a rare slow growing epithelial malignancy. In the rare instance of taking origin from eyelid, it can arise from eyelid skin, glands of Moll, palpebral lobe of lacrimal gland, accessory lacrimal glands in conjunctiva or from ectopic lacrimal gland tissue. A patient with ACC of the upper eyelid, clinically presenting like sebaceous gland carcinoma has been presented in this case report.