Current Issue
Vol. 16, No. 1,
Jan-Mar 2020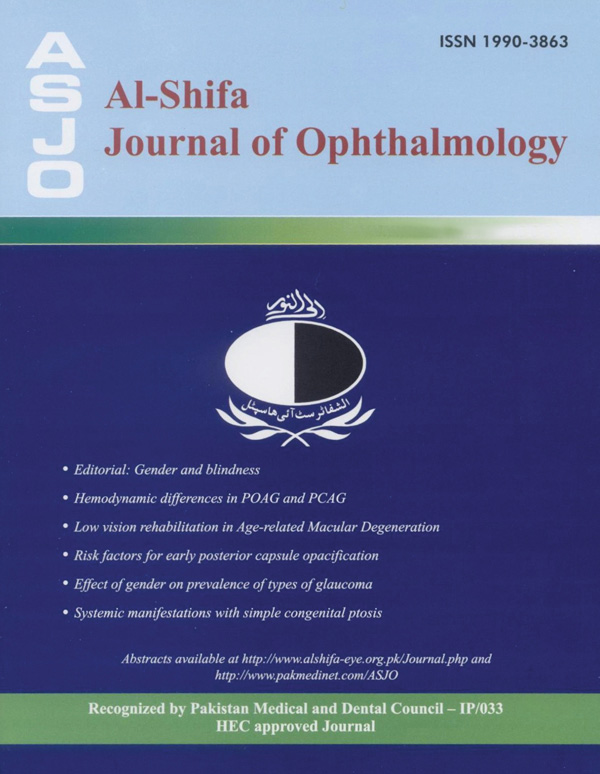 Past Issues - Vol. 4 , No. 2, July - December 2008
Al-Shifa Journal of Ophthalmology
Editorial: Retinoblastoma – Late Onset and Problems Linked to Survival
Tayyab Afghani, MS
The effect of Topical Flurbiprofen with Intra-operative Epinephrine on the Maintenance of Mydriasis during Cataract Surgery

Sumaira Altaf FCPS, Muhammad Hanif FCPS, Nadia Azad, FCPS
A total of 105 patients, undergoing uncomplicated extra capsular cataract extraction with posterior chamber IOL implantation, were enrolled in the study. The group receiving topical flurbiprofen 0.03% along with intra-operative epinephrine showed better maintenance of mydriasis, so much so that some of the pupils got even further dilated by the end of the surgery.
Comparison of Diode Laser Trans-Scleral Cyclo-Photo-Coagulation with Cyclocryopexy in Refractory Glaucoma

Farah Akhtar, DOMS, FCPS, Ayisha Kausar, MBBS
The study comprising 49 patients concludes that in refractory glaucoma, trans-scleral cyclophotocoagulation (TDC) is more effective in decreasing intraocular pressure as compared to cyclocryotherapy. TDC also has a lower rate of complications and is relatively safer than cyclocryopexy.
Spectrum of Ocular Injuries Presenting at Emergency Department of Pakistan Institute of Medical Sciences

Mohammad Siddique FCPS, Mohammad Sajid Munir FCPS,
Mohammad Ashraf FCPS
209 patients with ocular injuries presented at Accident and Emergency Department of Pakistan Institute of Medical Sciences over a period of one year. The commonest place of injury was work place (30.6%) followed by home (30.1%). 194 patients (92.8%) presented in emergency within 24 hours and only 15 patients (7.2%) came after one day. Visual acuity was 6/6 in 31.6% of patients while five patients (2.4%) had no light perception.
Efficacy of Peribulbar (Sub-Tenon) versus Retrobulbar Local Anesthesia in Cataract Surgery

Muhammad Sajid Munir FCPS, Hashim Imran FCPS, Muhammad Hanif FCPS, Muhammad Ashraf FCPS
100 patients were selected for consecutive comparative interventional study. In retrobulbar anesthesia, 30 (65.2%) patients experienced pain free surgery as compared to sub-Tenon's local anesthesia where 49 (98%) patients experienced pain free surgery. Complete akinesia was achieved in 26 (56.52%) cases of retrobulbar anaesthesia group as compared to 5 (10%) cases in sub-Tenon's anaesthesia group. There was a significant elevation of intraocular
pressure immediately after administrating the local anesthesia in retrobulbar group as compared to sub-Tenon's group.
Late Bilateralization of Retinoblastoma – A Case Report

Saemah Nuzhat Zafar, MCPS, FCPS, FRCS, Ayesha Khan, FCPS, FRCS, Clinical Fellow in Pediatric Ophthalmology
The growth, clinical course and laser treatment of a case of retinoblastoma in the fellow eye of a patient seen at an interval of 9 years after one eye was enucleated for retinoblastoma at the age of 3 months is reported.