Current Issue
Vol. 15, No. 4,
Oct-Dec 2019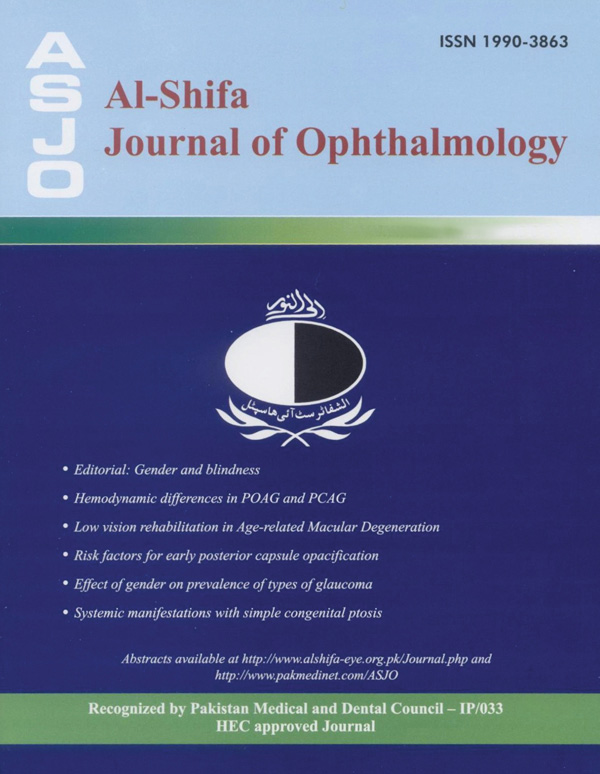 Past Issues - Vol. 4 , No. 1, January - June 2008
Al-Shifa Journal of Ophthalmology
Editorial: Early Detection of Glaucoma - A Stitch in Time Saves Nine
Farah Akhtar, FCPS
A Randomized Trial of Part-time versus Full-time Patching Regimens for Treatment of Amblyopia
Abdul Mannan Sikder MD, Fellow in Pediatric Ophthalmology,
Rabiul Husain FCPS, FRCS, Shahinoor Islam, Dip Orthoptics
84 patients, 4 to 8 years of age with amblyopia were included in the study. Each patient was randomly assigned with equal probability to either full time or part time daily patching. 43 patients were enrolled for part-time occlusion group and 41 patients for full-time occlusion group. Follow-up visits were conducted at 4 weeks and 16 weeks. Visual acuity improved up to 6/12 or better in 29 (67.4%) patients of part-time occlusion group and in 27 (65.9%) patients of full-time occlusion group
Late Visual Recovery in Amblyopic Eye Following the Loss of Good Eye

Muhammad Hanif DOMS, FCPS, Mehmood Ali, MBBS
After a blinding penetrating injury in the better eye, a 17 year old patient is reported to have considerable spontaneous improvement in his visual acuity in previously amblyopic eye gradually improving from 6/36 to 6/12 suggesting that a significant degree of plasticity does exist in the visual system of adults and amblyopia can be successfully treated in older children and adolescents.
Profile of Primary Open Angle Glaucoma at a Tertiary Care Eye Hospital

Farah Akhtar DOMS, FCPS, Mehmood Ali MBBS, Amtul Aziz DOMS,
Muhammad Shoaib MBBS
Out of the total 1068 patients aged 40 years and above presenting to
Glaucoma Clinic, primary open angle glaucoma was the commonest and diagnosed in 403 (37.73% of total) patients. Bilateral POAG was found in 334 patients (82.87%). 33 (8%) patients were blind at the time of presentation while 134 (33.25%) patients had a cup disc ratio of 0.8 or more in both eyes. 603 (82.82%) eyes were treated medically, while trabeculectomy was the most common surgical procedure performed in 102 (14.01%) eyes.
Excimer Laser Photorefractive Keratectomy for 1.50 to 3.50 Diopters of Myopia – Six Months Follow Up

Abdul Moqeet Khan, FCPS
The study group consists of thirteen patients, comprising of 25 eyes, with refractive error ranging from -1.50 to -3.50 D.S (diopters sphere) and less than -1.50 D.C (diopters cylinder). At one month, three months and six months after photorefractive keratectomy, 88%, 80% and 100% eyes had 6/6 unaided visual acuity respectively. No vision threatening complications occurred.
Congenital ectropion and ichthyosis: case report 36

Saemah Nuzhat Zafar, MCPS, FCPS, FRCS,
Ayesha Khan FCPS, FRCS, Clinical Fellow in Pediatric Ophthalmology (Toronto)
A 5 days old male infant having severe congenital ectropion and congenital ichthyosis was managed initially by lubricants, taping the eye lids and applying eye pads. Lid suturing was done in the operating room the next day under local anaesthesia. Satisfactory outcome was achieved after 48 hours of lid closure