Current Issue
Vol. 16, No. 1,
Jan-Mar 2020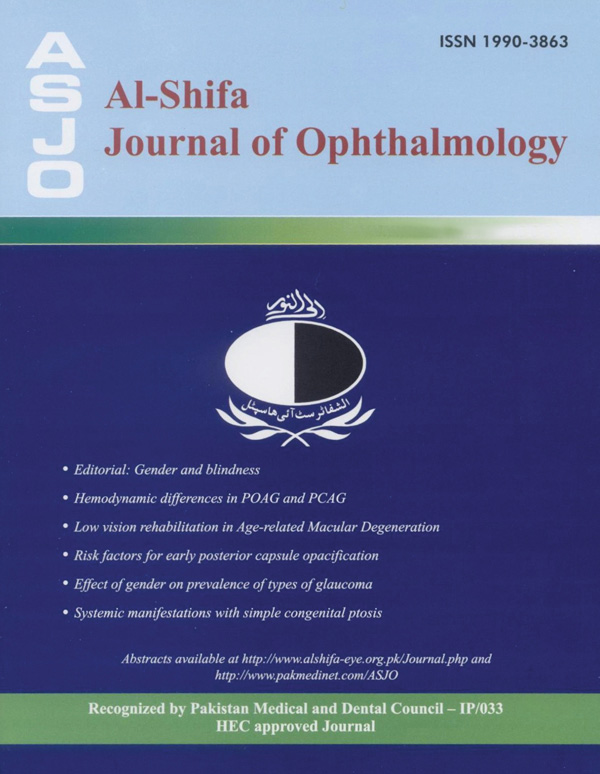 Past Issues - Vol. 3, No. 1, January - June 2007
Al-Shifa Journal of Ophthalmology
Editorial: Cataract Surgery in children-Dilemmas

Tayyab Afghani, MS

Comparison of surgically induced astigmatism in phacoemulsification with 5.5 mm superior vs. temporal incision

Shahzad Iftikhar FRCS, Rabia Bashir FCPS,
Badruddin Athar Naeem FCPS, Raja Abrar DOMS,
Rashid Hussain Jaffri MCPS and Ambreen Sarmad FCPS,
100 patients undergoing phacoemulsification were randomly allocated to superior or temporal limbal incision. Temporal incision was associated with significantly less surgically induced astigmatism than superior limbal incision
Comparison of Visual Outcome after Refraction in Keratoconus associated with and without VKC

Kanwal Batool Dip Optom, Amtul Aziz DOMS
286 eyes of 170 patients were studied. Each patient underwent complete ocular examination and refraction. Visual outcome after refraction was comparatively worse in keratoconus patients associated with VKC due to photophobia, active conjunctivitis, scaring and vascularization.
Excimer Laser Photorefractive Keratectomy for 3.75 to 6.00 Diopters of Myopia - Six Months Follow Up

Abdul Moqeet, FCPS
To assess the efficacy and safety of excimer laser photorefractive keratectomy for myopia 44 eyes within range of -3.75 to 6.00 diopters sphere underwent PRK. At one month, three months, and six months after PRK, 45.45%, 63.63%, and 74.31% eyes respectively achieved 6/6 visual acuity without glasses. PRK
appeared to be an effective and safe procedure with good predictability for the correction of moderate myopia.
Simultaneous Bilateral Cataract Surgery in children – A Case Report

Samina Jahangir FRCS, Mehmood Ali, MBBS
A one year old female child with bilateral congenital cataract underwent simultaneous cataract surgery in a single session in order to reduce the risk of repeated general anesthesia. No per operative complication occurred and satisfactory visual outcome was achieved
Treatment outcome of intubation in congenital nasolacrimal duct obstruction

Saemah Nuzhat Zafar FRCS, Ayesha Khan FRCS, Nadia Azad FCPS
Intubation in experienced hands is a successful procedure for treating congenital nasolacrimal duct obstruction mostly after failed probing. 37 eyes were treated with lacrimal intubation using olive tip silicon tube. Success of intubation was seen in 32 out of 37 intubated eyes (86.48%). Tube removal in office is cost effective and safe.