Current Issue
Vol. 15, No. 4,
Oct-Dec 2019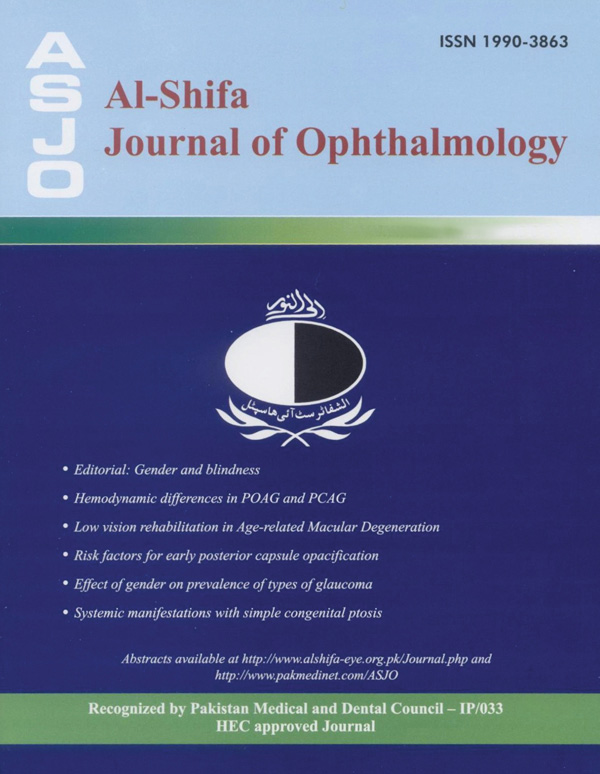 Past Issues - Vol. 2, No. 2, January - June 2006
Al-Shifa Journal of Ophthalmology
Editorial: Avastin in demand

Tayyab Afghani, MS

Spectrum of Ocular Diseases in Senior Citizens at Al-Shifa Trust Eye Hospital Rawalpindi 11

Amtul Aziz, DOMS, Mehmood Ali, MBBS,

1,000 patients over 70 years of age presenting at senior citizen clinic were examined. 89% had decreased vision. Major causes of SVI were cataract in 45%, glaucoma in 15.38% and retinal diseases in 14.61%.
Management and visual outcome of retinal detachment caused by tennis ball trauma 19

Nadeem Qureshi, FCPS

29 patients presenting with retinal detachment due to tennis ball trauma underwent retinal surgery. 24 out of 29 regained useful vision after this treatment.
Patients' Satisfaction After Photorefractive Keratectomy 24

M Abdul Moqeet, FCPS

Out of 34 patients who underwent PRK, twenty six (76.47 %) patients were happy with the overall result at completion of six months, whereas, eight (23.52%) were not comfortable with the overall out come.
Low vision management in Retinitis Pigmentosa patients 30

Kashmala Rafique, Diploma in Optometry

A young female with marked visual handicap due to retinitis pigmentosa was tremendously helped as a result of proper low vision management.

Wegener's Granulomatosis: A case report 34

Dr Saemah Nuzhat Zafar MCPS, FCPS,
Dr Ayesha Khan FCPS, FRCS, Clinical Fellow in Paediatric Ophthalmology
Fifty-one year old female who presented with unilateral scleritis and anterior uveitis, saddle shaped deformity of nose, epistaxis and foul smelling breath remained under anti-tuberculosis treatment for 9 months without any improvement before being diagnosed and managed successfully by ophthalmologists.

Letters to the Editor 39

Neovascular Glaucoma Management with Bevacizumab (Avastin)
Nadeem Ishaque, MCPS, FCPS