Current Issue
Vol. 16, No. 1,
Jan-Mar 2020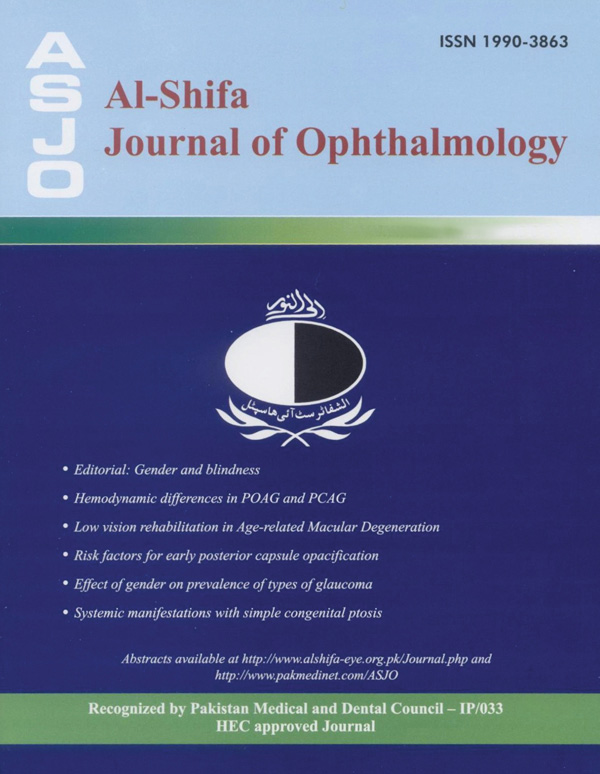 Past Issues - Vol. 2, No. 1, January - June 2006
Al-Shifa Journal of Ophthalmology
Presentation and objective findings in asthenopic patients at a tertiary eye care hospital

Mahmood Ali, MBBS, Aashiq Hussain, MCPS, Zargham Ali Malik, MBBS

Out of the 100 patients examined, most frequent asthenopic symptom was blurred vision (31%), followed by headache (28%) and eye aches (24.0%).
Most frequent objective finding was refractive errors in 45% patients, followed by presbyopia in 18%, dry eyes in 13%, heterophorias in 9% and convergence insufficiency in 7%. Asthenopic complaints were most frequent in office workers (29%) and students (26%). Pakistani population seems to present with almost similar asthenopic symptoms as in other races although frequency of various symptoms and objective findings differ.
Comparison of latanoprost with timolol in lowering intraocular pressure in patients with primary open angle glaucoma

Naveed Ahmed Qureshi, FCPS

Forty patients were studied with six months follow-up, the mean reduction in IOP from base line was 5.63 mm Hg (22.56%) in patients receiving Timolol and 7.88 mm Hg (30.13%) in patients receiving Latanoprost.
Mortality from Diamox

Tayyab Afghani, MS, Asif Kiani, FCPS and Abdul Moqeet Khan, FCPS
Three patients in two different hospitals presented with symptoms of acute confusion, altered awareness and irritability after the use of diamox. Two of these jumped out of ward windows and lost their lives.
Aqueous misdirection syndrome as a complication of Neodymium:YAG posterior capsulotomy

Farah Akhtar, FCPS

A 50 year old psuedophakic female who had Nd:YAG posterior capsulotomy six days before developed raised intraocular pressure associated with flat anterior chamber. A-scan showed aqueous pockets in vitreous, leading to diagnosis of aqueous misdirection syndrome. Medical therapy comprising atropine, 0.5% timolol, mannitol, and acetazolamide were given. Anterior
vitrectomy to disrupt un-interrupted anterior vitreous face was carried out.
Excimer laser photorefractive keratectomy for 6.25 to 20.00 diopters of myopia – A six months follow up

Abdul Moqeet Khan, FCPS

Out of forty nine (49) eyes at one month, three months, and six months after PRK, 14.28%, 20.40% ,and 20.78% eyes achieved 6/6 visual acuity without glasses. All the eyes presented with various degrees of corneal haze at six months follow up. PRK is less effective for the correction of high myopia mainly due to corneal haze and regression of effect
Use of Fresnal Prism in the Management of Diplopia

Samina Naseer, D optom, D Orthoptics, OJT Orthoptics (UK), Sarah Iqbal, D optom, D Orthoptics

In a 40 years male, diplopia developing after cataract extraction was brought to normal by the regular use of Fresnel prism. At Orthoptic unit of Al-Shifa Trust Eye Hospital, Rawalpindi, during one year, 72 patients of diplopia were managed with Fresnel prism. Out of these, 60 achieved binocular single vision.Author and Subject Index for Volume 2, 2006