Current Issue
Vol. 18, No. 2,
Apr-Jun 2022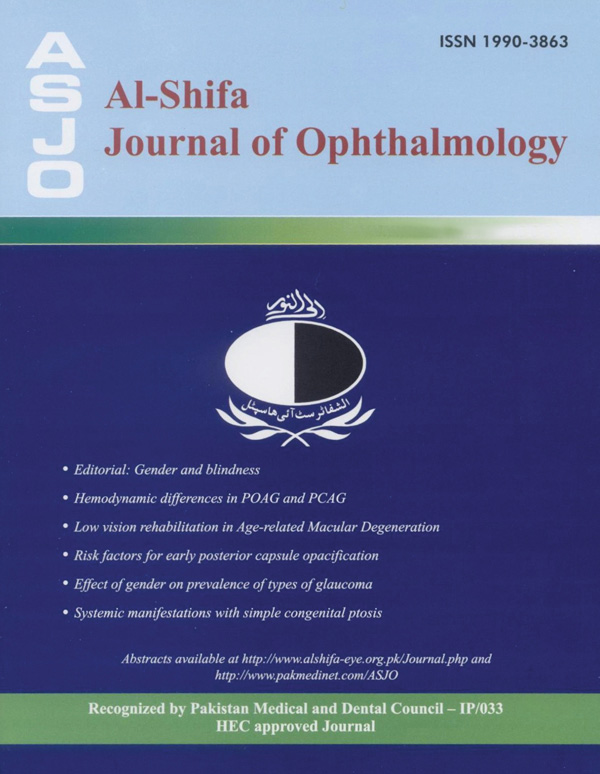 Past Issues - Vol. 18, No. 1, January – March 2022
Al-Shifa Journal of Ophthalmology
Editorial: Capsular Tension Rings – Merits and Demerits
Mahmood Ali

Relationship Between Central Retinal Thickness and Neovascular Glaucoma In Cases of Central Retinal Vein Occlusion Treated with Intravitreal Bevacizumab
Waleed Ahmad, Tahira Afzal Khan, Saad Bin Yasir, Fawad Ahmad
Introduction: Non-ischemic and ischemic are two categories of Central retinal vein occlusion. The purpose of this research study is to ascertain changes in the central retinal thickness and possible risk for developing NVG as a result of intravitreal bevacizumab in CRVO patients. Objective: To determine changes in central retinal thickness and risk of neovascular glaucoma after intravitreal bevacizumab injection in patients with central retinal vein occlusion treated with intravitreal bevacizumab.
Method: The study design was prospective comparative study. Groups for the study were made on the basis of neovascularization as Neovascular group and control group. A total of 50 patients (25 patients in each group) were included. Patients meeting inclusion criteria i.e., age between 60 to 90 years having CRVO and treated with IVBs were enrolled through nonprobability consecutive sampling technique. Changes in central retinal thickness and occurrence of neovascular glaucoma were noted.
Results: Study results seem to provide important data to enable concerned government organisations to make safety strategies and provide better health education in terms of domestic activities, traditional work, sports, and leisure environments for the prevention of serious eye injuries.
Conclusion:This study demonstrated that ischemic-type CRVO and CRT thickness at the time of final follow up was not significantly related to the development of NVG in CRVO patients who were treated with IVBs.
Asthenopia and Coping Strategies Used Among University Students Of Islamabad Attending Virtual Classes
Tehreem Fatima, Qandeel Tahir
Objective: To outline the asthenopic symptoms found in students due to virtual classrooms and the severity of visual discomfort in them, the association between asthenopia and digital working hours of students and to find out the coping strategies used by students to relief this visual discomfort.
Methodology: A cross-sectional study was carried out at 4 different universities of Islamabad from May 2021 to September 2021. A total of 380 students were studied who met inclusion criteria during this research. The visual symptoms were assessed using a structured questionnaire developed by Conlon et al. with some modifications according to the need and limitations of the study.
Results: The results showed that out of a total of 380 students, asthenopia was found in significant number of respondents .i.e., 60.3% (N=229) amid use of digital screens for attending online classes and studying purposes. Among coping strategies, taking regular breaks (41.30%) and use of adjustable screen (28.70%) were prominent. The results also showed an association of asthenopia with refractive error and digital working hours.
Conclusion: The present study concluded that asthenopia is a common ocular finding in university students attending online classes. Efforts are needed to make students aware of the importance of public health to overcome this problem and perform their studies better.
Responsiveness towards Patients Seeking Eye Care in a Tertiary Eye Care Hospital of Rawalpindi City
Iqra Aftab, Qandeel Tahir, Maryum Chaudhry, Sidra Masood Shah, Ulfat Anjum
Objective: To assess the level of responsiveness in a tertiary eye care hospital in Rawalpindi city and to find out the association between different domains of responsiveness and demographic variable.
Methodology: Study design was cross-sectional and carried out at OPDs of Al-Shifa Trust Eye Hospital of Rawalpindi. It included patients from three categories i.e., free, subsidized and private. A total of 358 respondents (<18 years of age) who came to hospital for follow-up checkup or who were admitted in hospital. Independent t test and one-way ANOVA was applied to check the relationship between different domains of responsiveness and demographic variables.
Results: Out of total 358 respondents, there were 175 males (48.9 %) and 183 females (51.1%). Three different categories of patients were selected to check responsiveness. Mean scores of different domains of responsiveness was calculated for each category. Mean scores of quality of basic amenities (24.89 ± 2.45) was highest. Choice of care (5.611 ± 2.38) had lowest mean scores which mean there was no freedom to choose a specialist. Different domains of responsiveness and average responsiveness vary between different OPDs.
Conclusion: Responsiveness was almost equal in private, semi-private and free patients which shows that patients are treated equally in health care facility. Although choice of care provider was low in free patients which needed to be improved and equal opportunity of selection of specialist should be given to them or either counselling should be done that they have to go through whole procedure to get checked from specialist. All the programs that aim to improve the quality of health care services responsiveness is a valuable contribution. Weaker domains of performance should be prioritized through activities and patient's perspective should be kept in mind.
Incidence of Infective Endophthalmitis in patients administered Intravitreal anti-VEGF injections in clinical settings at Polyclinic Hospital, Islamabad
Rabia Akhtar, M. Mumtaz Chaudhry
Purpose: To assess the rate of Infectious Endophthalmitis after anti-vascular endothelial growth factor injection, and to evaluate incidence of infection rate in clinic-based setting.
Method: A prospective study was conducted under aseptic clinical conditions at the Ophthalmology department, Polyclinic Hospital in order to assess occurrence of infective endophthalmitis amongst patients who were injected with intravitreal Bevacizumab (Avastin). All patients were consecutively treated by a single surgeon with Intravitreal Bevacizumab using aseptic technique and sourced from the same supplier over a three-year period from January 2019 to December 2021.
Results: This is a recent advancement for the cure of one of four clinical indications; Diabetic Retinopathy found in 58% of studied patients, Retinal vein occlusion found in 12% of studied patients, Vitreous hemorrhage found in 23% of studied patients and Age-Related Macular Degeneration found in 7% of studied patients. Total number of patients included in the study were 500. During this period only one patient developed Infective Endophthalmitis who presented within 48 hours and was treated accordingly.
Conclusion: No increase in Infective Endophthalmitis was observed when administering Anti Vascular Endothelial Growth Factor (anti-VEGF); Avastin in clinical settings under sterile conditions.
Incidence of Early Onset Presbyopia in Pakistan: A Population Based Descriptive Review
Muhammad Sharjeel, Zeeshan Hameed, Aziz Jan Bashir, Muhammad Kamran Khalid, Muhammad Shoaib Khan
Purpose: To study the incidence of early onset presbyopia before age of 40 years in a population group of Pakistan.
Study Design: Descriptive study
Place and Duration: Department of Ophthalmology, Mufti Mehmood Teaching Hospital (Gomal Medical College), Dera Ismail Khan, Pakistan from 1st January 2021 to 31st March 2021
Materials and Methods: After obtaining IRB approval, a prospective review of 30 patients with near vision difficulty was done. Patients having hypermetropia, pseudophakia or media opacity were excluded. All patients underwent extensive history taking and ocular examination especially near vision refraction and prescribed spectacles accordingly. Data was saved and analyzed later with SPSS v 25.0.
Results: Out of 30 patients, 12 (40%) were male and 18 (60%) female. All patients ranged from 31 to 39 years with mean age of 35.3 years. Patients were divided into three age groups. Patients between age of 31 to 33 years were 8 (26.6%), between 34 to 36 years were 13 (43.3%) and between 37 to 39 years were 9 (30.0%). Final near vision correction ranged from +0.50 DS to +2.50 DS with mean correction of +1.22 DS.
Conclusion: Incidence of early onset presbyopia is fairly common before age of 40 years. It is more prevalent in females as compared to males and may develop as early as 31 years of age with required spherical correction as high as +2.50 diopters.
Rhino-Orbital Mucormycosis With Concurrent COVID-19 Infection
Hussain Ahmed Khaqan, Muhammad Ali Haider, Hasnain Muhammad Baksh, Atia Nawaz, Nabeel Akram
The COVID-19 pandemic has redefined life as we know it and is still an ongoing battle in terms of disease presentation and its complications. It has caused widespread mortality, morbidity, social and economic turmoil of an unprecedented magnitude. The varying presentations require continuous update of knowledge and a global concentrated effort to document these varied clinical presentations so that a cohesive management plan can be made. We are reporting a series of cases that developed rhino-orbital Mucormycosis and were seen recently in our clinical setting. The cases were diagnosed with COVID-19 and were under hospital care when they developed ocular signs and symptoms which are being presented in this report.