Current Issue
Vol. 18, No. 1,
Jan-Mar 2022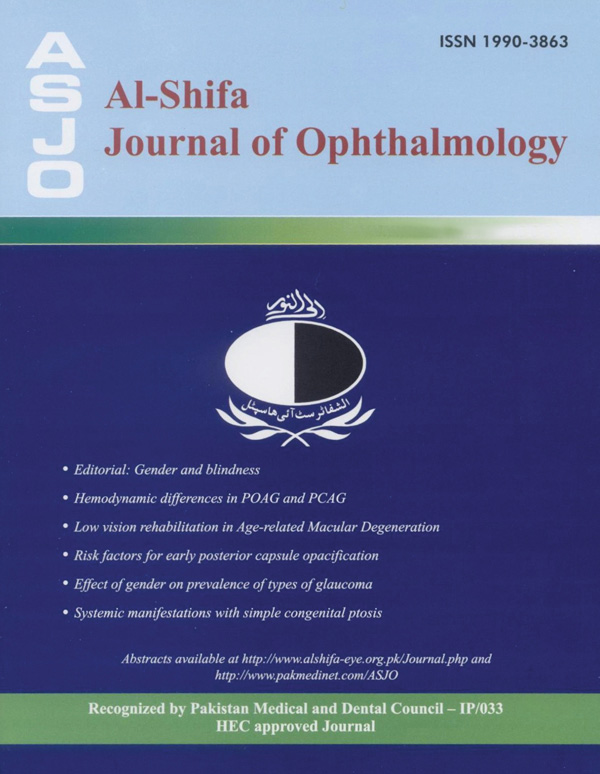 Current Issues - Vol. 16, No. 3, July – September 2020
Al-Shifa Journal of Ophthalmology
Editorial: Automated Perimetry-Past, Present and Future
Mahmood Ali

Agreement of Axial Length Measurements by Optic Biometer OA-2000 and Ultrasound
Sabeen Chaudhry, Mustafa Abdul Hameed Ismail, Afia Matloob Rana
This analytical observational study was conducted to investigate the agreement and correlation between the optical (OA-2000) and applanation ultrasound axial length measurements. Comparison and correlation of axial length of the eye with optical biometer and applanation ultrasound were analyzed.
Visual Outcome of Corneal Collagen Cross Linking in Early Keratoconus
Maria Saleem, Muhammad Irfan Sadiq, Muhammad Usman Sadiq, Aziz Jan Bashir, Amna Manzoor, Yasir Ahmed
This quasi experimental study was conducted to compare the mean keratometry in apical meridian (kmax), and visual acuity in early keratoconic eyes at 6 months after corneal collagen cross linking (CXL) with the measurements at base line. A total of 164 keratoconic eyes fulfilling inclusion criteria were included in the study. Visual Acuitywas recorded using LOGMAR charts while keratometry readings were obtained using Haag-Streit (Galilei) topographer.
Prevalence of Uncorrected Refractive Errors in School Going Pediatric Population in Four Districts of Azad Jammu and Kashmir
Waseem Ahmed Khan, Saba Haider Tarar, Shazia Siddiq, Muhammad Irfan Sadiq, Toba Khalil, Maria Rehmat
This descriptive cross-sectional study was carried out in both public as well as private school going pediatric population in district Mirpur, Kotli, Bhimber and Pallandri, AJK, Pakistan from 1st March, 2016 to 30th June, 2020. The screening was carried out at the community level initially and the affected children were referred for further examination to district hospitals of AJK and Pakistan.
Effect of Indoor and Outdoor Activities on Myopia in School Going Children
Khadija Rasheed, Tayyab Afghani, Ayesha Babar Kawish, Shahid Iqbal, Momina Javed, Shakila Abbas, Sadaf Qayyum
This descriptive cross-sectional study was performed to report the effect of indoor and outdoor activities on myopia in children with ages between 8 to 15 years. Children during screening camps were included in this study, held at different private and public sectors of age having myopia of -0.50DS to -6.00DS. The research question was proforma based and included three sections.
Awareness and Attitude of Spectacle Wearers Towards Refractive Surgery as An Alternative Vision Correction Method
Samreen Qadir, Qurat ul Ain Waheed, Abdullah Naeem Syed
This Cross-sectional study was conducted to determine the awareness and attitude of spectacle wearers towards refractive surgery as an alternative vision correction method and to analyze the preferences of subjects regarding vision correction tools among the methods known to them. The study population included 100 students using spectacles as a vision correction tool and age ranging from 18-25 years.
Assessment of Dry Eye Disease among Patients with Keratoconus at Ophthalmology Department, Hayatabad Medical Complex, Peshawar
Komal Inam, Mutahir Shah, Farah Amin, Syed Barkat Islam, Saif Ullah
The aim of this comparative cross-sectional study was to determine the frequency of dry eye diseases among keratoconus and control groups among subjects visiting Ophthalmology department Hayatabad Medical Complex. Mean Mcmonnies scores for cases and control were compared to find any association between keratoconus and dry eyes.