Current Issue
Vol. 18, No. 2,
Apr-Jun 2022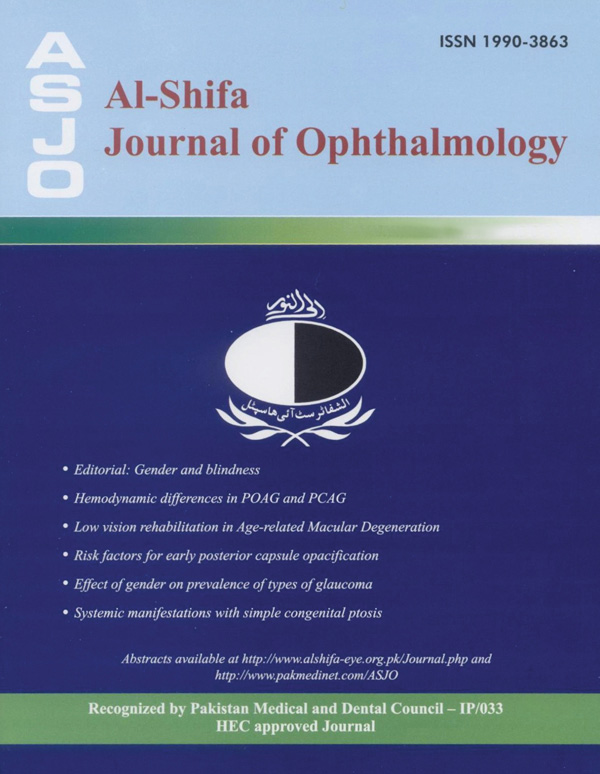 Past Issues - Vol. 16, No. 2, April – June 2020
Al-Shifa Journal of Ophthalmology
Editorial: Tele Education During COVID-19 Pandemic and Beyond
Hassan Mansoor

Assessment of Stereopsis with and without Spectacles in Patients with Keratoconus
Shakila Abbas, Rabia Saeed, Iqra Iqbal, Syed Barkat Islam, Nimra Gul, Ayesha Kiran, Sadaf Qayyum
The purpose of this study was to assess and compare the stereopsis in keratoconus subjects with and without glasses and to compare the stereoacuity in different levels of keratoconus. A total of 30 subjects from both genders with ages ranging between 12-25 years were included through a non-probability purposive sampling technique. Corneal topography was performed for diagnosis of keratoconus. Stereopsis was tested by TNO chart both with and without glasses. Data was analyzed by using paired sampling T-test and chi-square in SPSS 20 software.
Internal Limiting Membrane Peeling in Rhegmatogenous Retinal Detachment Associated Macular Holes
Hussain Ahmad Khaqan, Kashif Jahangir, Hasnain Muhammad Baksh, Hafiz Ateeq Ur Rehman, Raheela Naz
Thirty-seven eyes presenting with rhegmatogenous retinal detachment (RRD) associated macular hole underwent pars plana vitrectomy (PPV) combined with internal limiting membrane (ILM) peeling and perfluropropane (C3F8) internal tamponade. The anatomical outcomes were assessed by the fundus photographs and optical coherence tomography (OCT). The preoperative and postoperative best-corrected visual acuities (BCVAs) were compared as the functional outcome.
Comparative Analysis of the Efficacy of Intravitreal Diclofenac Versus Intravitreal Bevacizumab in the Treatment of Diabetic Macular Edema
Adnan Ahmad, Mubbashir Rehman, Mohammad Farhan, Hamid Rehman, Javed Rasul, Jawad Humayun
In this comparative interventional case series, 50 eyes from 25 patients with bilateral diabetic macular edema were selected and randomly allocated to either intravitreal diclofenac or bevacizumab with exclusion and inclusion criteria devised for the study participants. The participants were observed for 24 weeks (6 months) for any improvement in best corrected visual acuity (BCVA) in logMAR and central macular thickness by spectral domain OCT.
Screen time and Refractive error: An Inevitable Nuisance
Syed Barkat Islam, Midhet Nasim, Mutahir Shah, Rabia Sharif, Muhammad Rashid, Saad Alam Khan
A cross sectional study was conducted in 2019 for four months on all children with age of 4-16 years and correctable refractive error. Refractive error was determined after complete objective and subjective refraction. Daily screen exposure time (hours) was determined by asking the patients about average hours / day for which the child was having screen exposure.
Effect of Covid-19 Pandemic On Postgraduate Resident Training in Ophthalmology: An Aspect to Be Pondered
Ayesha Hanif, Amna Anam, Irfan Qayyum
This study was conducted to report the impact of the pandemic on postgraduate training of ophthalmology residents. A cross-sectional study was conducted on 42 post graduate residents of ophthalmology departments in various tertiary care hospitals of Punjab using an online 19-point questionnaire. The questionnaire included four sections that were clinical work skills, online classes, exams and mental health.
Prevalence of Amblyopia in School Going Pediatric Population of Four Districts in Azad Jammu and Kashmir
Waseem Ahmed Khan, Saba Haider Tarar, Shazia Siddiq, Muhammad Irfan Sadiq, Khansa Sohrab, Nimra Rafique
A community based study was carried out in both private as well as public sector schools of 4 districts of AJK. Children diagnosed having uncorrected refractive errors with Snellen chart and auto-refractokeratometer underwent complete retinoscopy by an optometrist. Then the patients who had 6/12 vision in any eye with best possible correction and whose vision is did not improve by pin hole were selected. All the observations along with demographic information of patients were recorded.