Current Issue
Vol. 18, No. 2,
Apr-Jun 2022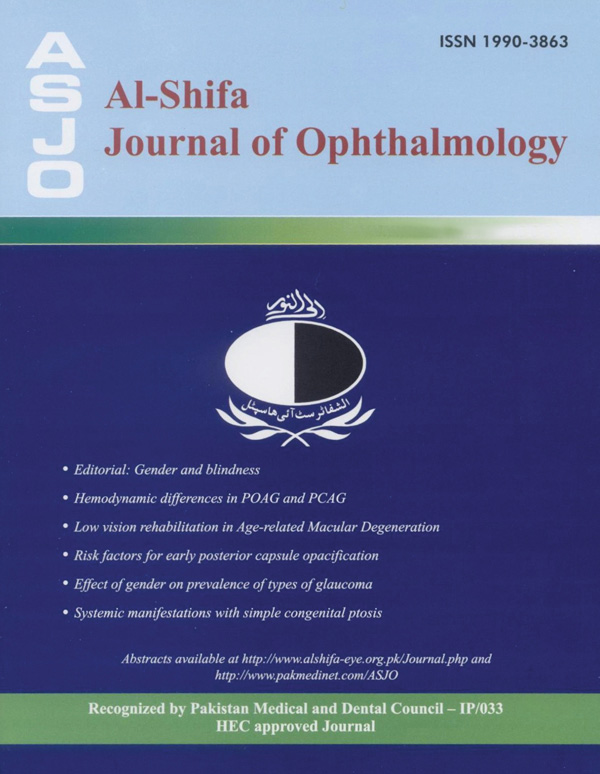 Past Issues - Vol. 16, No. 1, January - March 2020
Al-Shifa Journal of Ophthalmology
Editorial: Vision 2020: Did We Achieve the Objectives?
Tayyab Afghani

Comparison of Efficacy of Subconjunctival Fluconazole Injection Versus Topical Amphotericin B in The Management of Fungal Corneal Ulcer
Hamid ur Rehman, Muhammad Naeem Khan, Irfan Aslam Khattak, Adnan Ahmed
This study compared the efficacy of subconjunctival injection of fluconazole (2 mg/ml) with topical amphotericin B (0.5 mg/ml) eye drops in dealing with cases of fungal corneal ulcer. Patients with resistant corneal ulcers attending the outpatient clinic were divided into two groups. Group 1 included 37 cases treated with topical amphotericin B; Group 2 included 37 cases treated with subconjunctival fluconazole injection. Response to therapy and any complications resulting from it were compared between the two groups.
Barriers Towards Cataract Surgery Among Patients Visiting Tertiary Eye Care Hospital, Rawalpindi
Asifa Nawaz, Ume Sughra, Sultana Kausar, Maryam Firdous, Maheen Akbar
This study evaluated the barriers towards cataract surgery among patients visiting the Out Patient Department of a tertiary eye care hospital of Rawalpindi. Three hundreds and forty patients were interviewed by consecutive non-random sampling technique. Structured questionnaire was used with informed consent to collect the data. Major barriers reported in the study were non-availability of eye hospital, unwariness of cost effective treatment of cataract, fear of surgery, lack of knowledge about eye hospital in public/private sector and difficulty to visit an eye hospital.
Visual Outcomes and Ocular Attributes of Mechanical Implantation of Intracorneal Ring Segments-A Longitudinal Hospital Based Study
M Abdul Moqeet Khan, Saad Alam Khan, Hina Sharif
It was interventional uncontrolled trial in which patients having manual implantation of Intra corneal ring segment were included. Visual acuity, spherical equivalent, maximum keratometric readings, corneal astigmatism and endothelial cell density was measured at fixed intervals. Any changes in visual acuity after surgery, spherical equivalent and K-Max were noted and statistically analyzed.
Surgical Outcomes of Von Hippel Lindua Retinal Angiomatosis
Hussain Ahmed Khaqan, Hasnain Muhammad Baksh, Kashif Jahangir, Hafiz Ateeq Ur Rehman, Raheela Naz
This study was conducted to evaluate long term surgical outcomes of vitreoretinal surgery for retinal angiomatosis in VHL (von Hippel Lindua) syndrome. Eyes which underwent pars plana vitrectomy, retinectomy and endotamponade of 5000cs silicone oil for retinal angiomatosis and visual acuity was at least light perception (LP) were evaluated for outcome. All patients who completed three years follow up were included in the study.
Eye Make-Up and Its Association with Dry Eye Disease
Munir Amjad Baig, Rabeeya Munir, Waleed Munir
This hospital based, cross sectional study was conducted to report the presence or absence of dry eye disease among eye make-up users. One hundred and forty-one female patients, with no history of dry eyes, putting an eye make-up > 3 times / week like mascara, eye shadow or eyeliner, attending eye OPD/refraction clinic were included. A questionnaire-based survey about dry eyes and eye make-up was done by a trained researcher while a single investigator performed various dry eye tests under same physical conditions. Dry eye diagnosis was made on three out of five tests.
Comparison of Therapeutic Probing with and without Viscoelastic Gel for Congenital Nasolacrimal Duct Obstruction
Muhammad Sharjeel, Hafiza Sadia Imtiaz, Muhammad Abbas, Memona Mohiuddin
This study was conducted to determine the therapeutic role of probing in CNLDO and to compare the success rate and complication rate of probing with viscoelastic substance and probing without viscoelastic substance. Patients of either gender between 9-24 months of age, with unilateral or bilateral CNLDO that failed to resolve after 3 months of conservative treatment were enrolled into this study. Probing was performed in Group A with viscoelastic gel and in group B without viscoelastic gel. Complication rate and the differences between two groups in terms of success were reported.