Current Issue
Vol. 18, No. 2,
Apr-Jun 2022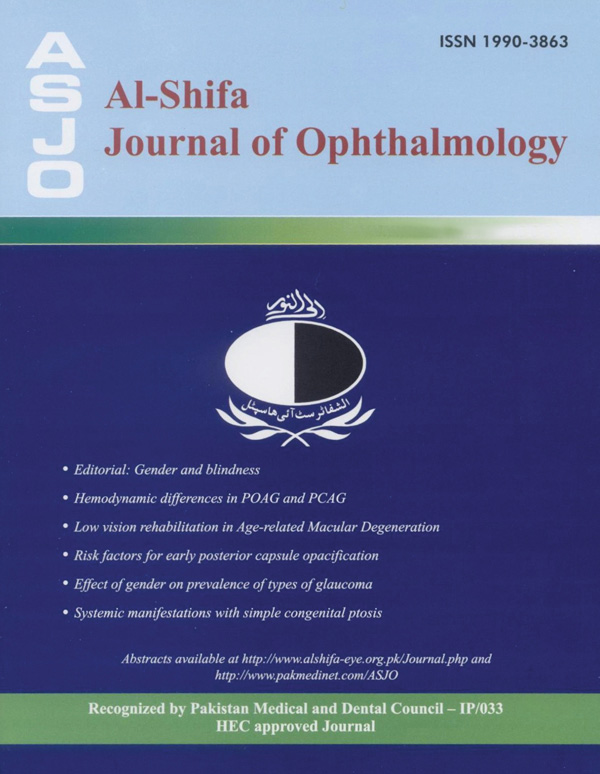 Past Issues - Vol. 15, No. 3, July - September 2019
Al-Shifa Journal of Ophthalmology
Editorial: Diabetes Mellitus: The Growing Epidemic
Irfan Aslam Khattak

Comparison of Effects of Topical Loteprednol Etabonate and Topical Dexamethasone on Intraocular Pressure after Cataract Surgery
Aunaza Maqbool, Rabia Sharif Bhatti, Muhammad Usman Arshad, Zamir Iqbal, Sohail Zia, Masud ul Hasan
This randomized controlled trial was conducted to determine the efficacy of loteprednol etabonate in terms of maintaining the intraocular pressure between 12-21mm of Hg after cataract surgery, compared to dexamethasone. Patients of group one were given loteprednol etabonate and patients of group two were given Dexamethasone. Later their intraocular pressure was checked with Goldman applanation tonometer one day before and 28 days after cataract extraction.
Spectacle Use among Children: Compliance, Satisfaction, Barriers and Challenges
Midhet Nasim, Haleema Masud, Saad Alam Khan, Muhammad Rizwan Ullah
A cross sectional study was done to assess the compliance of students with spectacles as well as finding out the predictors for non-compliance. The list of public schools was taken and data was collected on a structured questionnaire related to practice of spectacle use, determinants of spectacle use, impact of spectacle use on personality and barriers and problems associated with spectacle use etc.
Therapeutic Response and Local Adverse Effects of Topical Tacrolimus 0.03% Dermatological Ointment in Refractory Vernal Keratoconjunctivitis
Adnan Ahmad, Muhammad Farhan, Jawad Humayun, Hamid ur Rehman, Mubbashir Rehman, Irfan Aslam Khattak
Retrospective review of records was conducted to evaluate the therapeutic response with local adverse effects of topical tacrolimus (TCL) 0.03% dermatological ointment in patients with refractory vernal keratoconjunctivitis (VKC). Tacrolimus 0.03% dermatological ointment was applied twice daily after stopping all previous topical medications. The trail span was from one (1) to six (6) months. The clinical symptoms and the clinical signs were graded. Patients were assessed for symptomatic improvement as well as clinically for signs at the initiation and end of therapy.
Opening the Block There and Then: Nasolacrimal Duct Block Revisited
Khadija Mohammad, Mubashir Jalis, Mustafa Abdul Hameed Ismail, Gul-e-Naghma Saeed, Fauzia Abdus Samad, Sabahat Rehman
This was a correlational study with quantitative study design to present the success rate in treating congenital nasolacrimal duct obstruction with hydrostatic pressure (Crigler method) as a single maneuver in the outpatient department. A total of 175 children aged up to 12 months with congenital nasolacrimal duct obstruction were treated noninvasively with hydrostatic pressure as a single procedure. Children were followed up after 1 week to ensure opening of obstruction.
Outcome of Conjunctival Auto Graft Surgery in Pterygium
Nusrat Sharif, Muhammad Sajid Munir, Muhammad Arshad, Shahid Nazir, Shadab Hassan, Muhammad Rizwan Ullah
The main aim of this prospective interventional study was to report the outcomes of pterygium surgery with limbal conjunctival auto graft in terms of graft success and preventing the recurrence of pterygium. The key point in excision of Pterygium was to start the topical treatment with steroids and antibiotic combination to quite the inflamed tissue and then proceed with surgery. The success point of the surgery was that the graft tissue loosely attached to the margin of the tissue left behind after excision. Any cases of graft rejection or recurrence were reported.
Determining Effect of Filters on Color Vision and Contrast Sensitivity among Low Vision Patients: A Cross-Sectional Survey
Sana Kanwal, Hina Sharif, Muhammad Kashif Habib
A cross-sectional study was conducted in low vision department of Al-Shifa Trust Eye Hospital to assess difference in contrast sensitivity and color vision among low vision patients without filter and with yellow or pink filter. Diagnosis of each patient was enrolled provided by senior Ophthalmologist. Pelli-Robson contrast chart and AHRR color vision test were used for study. Procedure followed at first without using any filter then yellow filter and at the end with pink filter. Patients' responses were noted.