Current Issue
Vol. 16, No. 1,
Jan-Mar 2020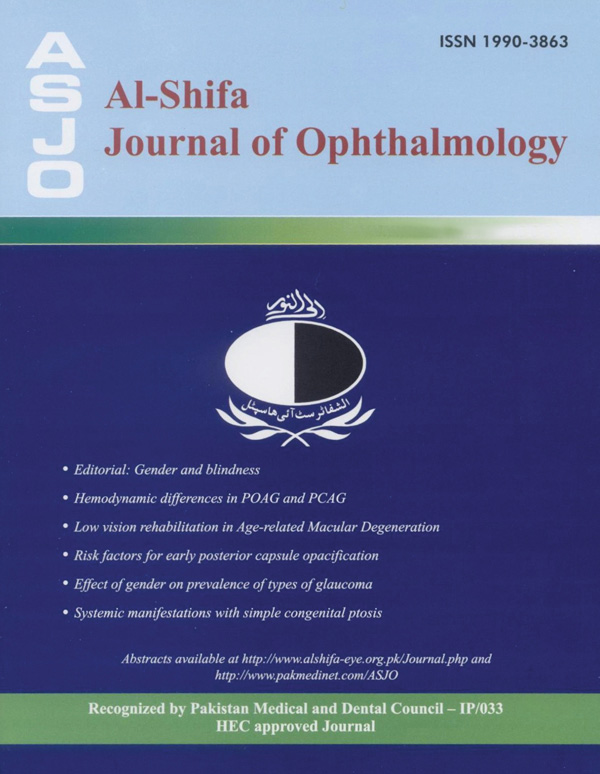 Past Issues - Vol. 15, No. 2, April - June 2019
Al-Shifa Journal of Ophthalmology
Editorial: Publishing in a Predatory Journal: An Ethical Dilemma
Ume Sughra

Efficacy of Supratarsal Injections versus Topical Steroids For Treatment of Vernal Keratoconjunctivitis In Children
Hamid ur Rehman, Tariq Shahnam, Irfan Aslam Khattak ,Waleed Ahmed, Nusrat Sharif, Shadab Hassan
This was a prospective comparative randomized case series in which a total of 90 eyes were included, divided into three groups. Group A included 30 eyes who received supratarsal injection of Triamcinolone acetonide 20 mg, Group B 30 eyes who received supratarsal dexamethasone 2 mg injection and Group C 30 eyes were prescribed topical Prednisolone acetate 1% eye drops. Resolution and recurrence of signs was compared.
Causes of Blindness in the Schools for the Blind
Saima Asghar, Qamar Farooq, Muhammad Faisal, Fuad Ahmad Khan Niazi
It was a cross sectional study conducted in two schools of Rawalpindi. A total of 254 students of two blind schools were screened for their visual status. Refraction was done and the advice for change of glasses, change of filter and a better suiting low vision aids (LVAS) was given to the students. Mild visual impairment was present in less than 1% cases, moderate visual impairment in (35.8%) and severe visual impairment was seen in (42.1%). Major causes of blindness and visual impairment are also reported.
Dry Eye Disease and Computers
Munir Amjad Baig, Rabeeya Munir, Waleed Munir, Shakeel Ahmad Faiz
It was a hospital based cross sectional study conducted at Federal Govt. Services Hospital Islamabad. Three hundred and three Federal Government computer operators working more than three hours daily and having five years of service attending OPD/ refraction clinics were enrolled. All subjects were divided into 3 groups while detailed eye examination and dry eye tests were performed. The frequency of computer vision syndrome and Dry Eyes is reported.
Impact of Diabetes Mellitus on the Variation of Central Corneal Thickness
Muhammad Sajid Munir, Muhammad Azhar Abbas, Nusrat Sharif, Shadab Hassan
This clinical study was conducted to validate the existence of a correlation between thickness of the central cornea and diabetes. A total of 930 patients were evaluated for measurement of central corneal thickness (CCT) by ultrasound pachymetry and eyes examination was done on the slit lamp. The sample was divided into two groups; 700 eyes of 350 non-diabetics and 1160 eyes of 580 diabetic patients. The average central corneal thickness in the diabetics and non-diabetics were compared.
Role of Optometrist in Management of Retinitis Pigmentosa
Mehwish Ali, Saima Suman, Ruhallah, Imran Ahmad
This was a descriptive cross-sectional study. A sample size of total 31 retinitis pigmentosa patients were enrolled in this study. Patient profile and data were collected followed by assessing the patient for low vision, prescription of optical and non-optical devices and counseling of the patient. Frequency of various levels of visual impairment is reported.
Efficacy of Enucleation Technique Using Westcott Scissors for Retinoblastoma – Sahaf's Technique
Muhammad Sharjeel, Irfan Qayuum, Muhammad Saim Khan, Muhammad Suhail Arshad, Farhan Ali, Imran Akram Sahaf
This was a Quasi experimental study in which the patients who had unilateral or bilateral retinoblastoma with large tumor, non-salvageable vision and increased risk of metastasis were included. The surgical procedure was performed in supine position under general anesthesia in all patients. Optic nerve stump was measured with plastic rule after enucleation was completed. Age of the patients and laterality and length of optic nerve resected during the procedure is reported.