Current Issue
Vol. 18, No. 1,
Jan-Mar 2022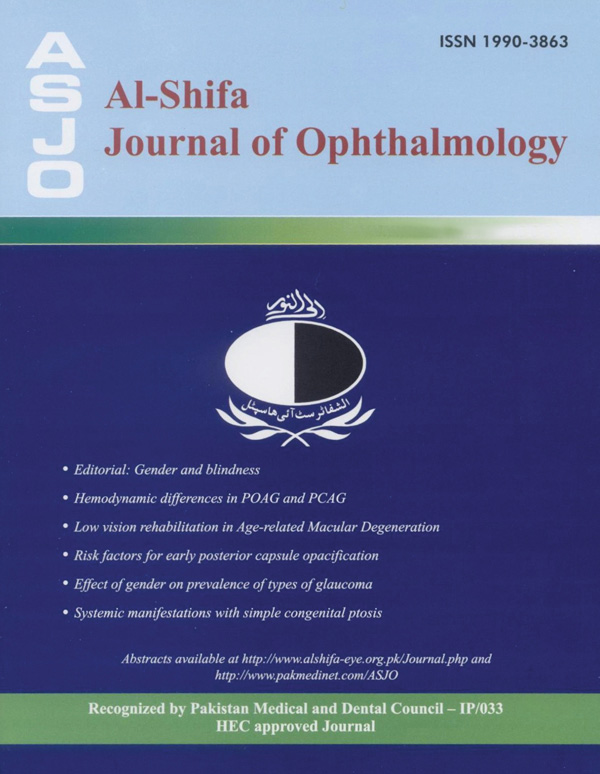 Past Issues - Vol. 14, No. 4, October – December 2018
Al-Shifa Journal of Ophthalmology
Editorial: Smoke in The Operating Room
Tayyab Afghani

Influence of Energy levels of Neodymium-Doped Yttrium Aluminium Garnet Laser on Macula after Posterior Capsulotomy
Yawar Iqbal, Adnan Aslam Saleem, Anique Ahmad, Sajida Parveen Shaikh, Sarah Zafar
This study investigated the effect of sulcus placed intraocular lenses (IOLs) on negative dysphotopsia (ND). A total of 13 eyes underwent IOL exchange from an in-the-bag IOL to an IOL in the ciliary sulcus, causing immediate relief of symptoms in all cases. The prophylactic sulcus placed IOL in the fellow eye significantly lowered the risk of negative dysphotopsia.
Comparison Between the Efficacy of Intracameral Injection Dexamethasone and Subconjunctival Injection Dexamethasone in Preventing Post-Operative Inflammation After Phacoemulsification
Zulfiqar Ali, Muhammad Naim, Danish Gani, Muhammad Siddique, Faisal Rashid, Sajjad Muhammad Haider
This randomized controlled trial was conducted compare the efficacy of Intracameral injection of dexamethasone and subconjunctival injection of dexamethasone in preventing post-operative inflammation after phacoemulsification. A total of 74 patients' cataract were included in this study and were randomly assigned into two groups i.e Group-A (subconjunctival dexamethasone) and Group-B (intracameral dexamethasone). Efficacy of dexamethasone in terms of preventing post-operative inflammation in the two groups was compared.
A Clinic-Based Study of Patients with Strabismus in Pediatric Age Group
Adnan Aslam Saleem, Sorath Noorani Siddiqui, Hassan Mansoor, Sarah Iqbal, Muhammad Asif
This cross-sectional observational study to determine the distribution and pattern of strabismus in children a tertiary care pediatric eye care unit. A total of 711 children, aged 1-12 years were evaluated out of which 56.1 % (399) children had esodeviations whereas 32.3% (230) had exodeviations. In esotropic children, constant esotropia accounted for 41.9% cases and 14.2% cases had infantile esotropia. In exotropic group, 145 (20.4%) cases had constant exotropia and 85(12%) cases had intermittent exotropia. Incomitant strabismus was less common in this population.
Dry Eye Disease and Contact Lens
Munir Amjad Baig, Rabeeya Munir, Waleed Munir
This cross-sectional study was conducted to study the ocular surface, tear film and factors of dry eye disease (DED) in contact lens wearers. A total of 227 subjects, age ranging 25-48 years, attending eye OPD/refraction clinic were selected. In this study, 72 (57.2%) of lens wearers had dry eye disease and the common symptom of dry eyes in CL users was dryness (73.5%) while tired eyes (77%) was most common symptom in non-CL wearers. Among CL users 29% reported discomfort in the morning that increased to 77% in the evening.
Trabeculectomy Under Topical Anesthesia
Asif Mehmood, Aftab ur Rehman, Muhammad Tariq Khan, Irfan Aslam Khattak, Muhammad Usman Khan
This descriptive case series was conducted at Al-Shifa Trust Eye Hospital, Kohat to determine the efficacy of proparacaine hydrochloride 0.5 % topical anesthetic during the procedure of Trabeculectomy in terms of pain perceived by patients. A total of 55 patients were included in the study based on inclusion and exclusion criteria. Proparacaine hydrochloride 0.5 % was used as a topical anesthetic agent. Intra-operative pain perception by patients on VAS (Visual analogue scale) was 0 in 28(50.9%) patients, 1 in 10 (18.2%) patients, 2 in 02(3.6%) patients and 3 in 15(27.27%) patients. There were no intra-operative complications.
Diagnostic Accuracy of Optical Coherence Tomography in Early Detection of Choroidal Neovascularization in Age Related Macular Degeneration
Nasir Chaudhry, Muhammad Owais Sharif, Sarmad Zahoor, Muhammad Usman Malik, Usama Iqbal, Alia Anum
In this study, the diagnostic accuracy of optical coherence tomography (OCT) was compared with fundus fluorescein angiography (FFA) in the early detection of choroidal neovascularization in Age Related Macular Degeneration. A total of 275 patients were enrolled and a pair of FFA and OCT images from the same visit was taken from each selected patient and was assessed by same observer. Diagnostic accuracy of OCT vs FFA, taking FFA as gold standard was calculated.