Current Issue
Vol. 18, No. 1,
Jan-Mar 2022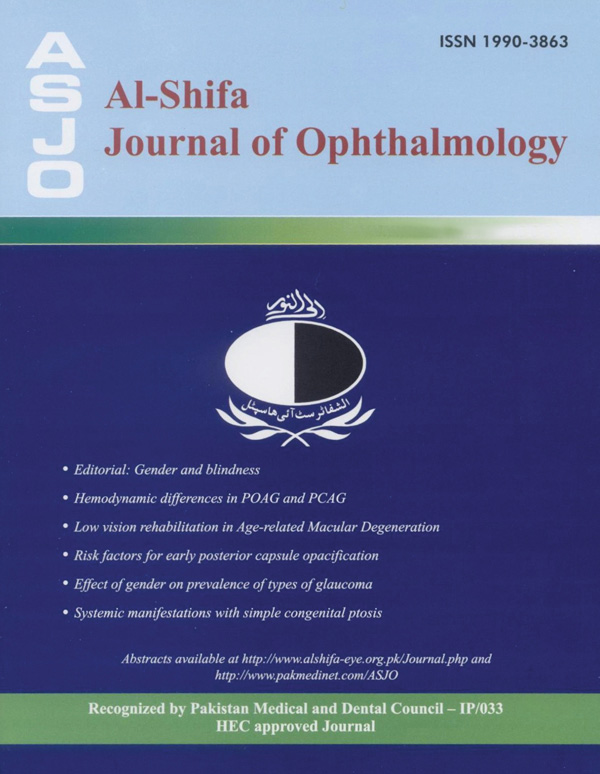 Past Issues - Vol. 14, No. 3, July - September 2018
Al-Shifa Journal of Ophthalmology
Editorial: Ultra-Wide Field Fundus Autofluorescence (UWF-FAF) for the detection and monitoring of inherited retinal disease in children
Darakhshanda Khurram

Management and Prophylaxis of Negative Dysphotopsia With Sulcus Placed Intraocular Lenses
Jonas V. Laursen, Kristian Naeser, Jan K. Pedersen, Peter Jeppesen
This study investigated the effect of sulcus placed intraocular lenses (IOLs) on negative dysphotopsia (ND). A total of 13 eyes underwent IOL exchange from an in-the-bag IOL to an IOL in the ciliary sulcus, causing immediate relief of symptoms in all cases. The prophylactic sulcus placed IOL in the fellow eye significantly lowered the risk of negative dysphotopsia.
Medical Calls written to Ophthalmologists for Consultation by various Faculties
Ashfaq ur Rehman, Abdul Aziz, Mohammad Israr, Usman Attique, Asad Ullah, Waleed
This study was conducted to report the frequency and patterns of medical calls written to Ophthalmologists at Department of Hayatabad Medical Complex Peshawar, from 1st February to 30thJuly 2017. It included calls both for the therapeutic (52.69 %) and diagnostic purposes (47.31%). Most of the medial calls were from the Pediatric Department (93 patients) followed by Endocrinology unit (89 patients).
Screening of Common Eye Problems in Children by School Teachers and Eye Health Workers
Waseem Ahmed Khan, Saba Haider Tarar, Mohammad Irfan Sadiq, Ammara Ajaz, Muhammad Usman Sadiq, Sara Najeeb
This cross-sectional observational study was conducted to report the common eye problems in school going children of District Kotli and District Bhimber AJK, screened by ophthalmologists and optometrists along with the school teachers. Eye examination kit consisting of vision chart, three-meter rope, first aid material for eye was provided. A total of 20,389 children with age range from 5 years to 17 years (mean 9.7 years) were screened by the teachers. The most commonly encountered condition was refractive errors detected in 153 (20.4%) children followed by squint in 120 (16%) children.
Computer Vision Syndrome: Pre and Post Treatment Assessment of Computer Users
Mutahir Shah, Saif Ullah, Farah Amin, Saad Alam Khan
The objectives of the study was to assess ocular problems in individuals associated with computer and visual display unit use and to assess the effect of therapeutic interventions on CVS symptoms. This Pre and Post Interventional study was conducted among the software houses of Rawalpindi and Islamabad. There was a statistically significant increase in Tear film Break up Time after intervention was given to the patients.
Knowledge and Practices Regarding Contact Lens Wear and Care Among Contact Lens Users in Twin Cities, Pakistan
Ume Sughra, Wajid Ali Khan, Fariha Munir, Sultana Kausar, Maheen Akbar, Muhammad Imran
A cross sectional study was conducted in Rawalpindi to assess the knowledge level of the contact lens users and to find out various practices regarding handling and care of contact lenses. Out of 200 CL users majority were females (170, 85.2%), and 53% of users had completed their graduation. Majority of respondents (78.5%) used CL for correction of refractive error. Out of 200 contact lens users, 34% users had poor knowledge and 38% had poor practices regarding contact lens wear and care.
Cystoid Macular Edema Following Uncomplicated Cataract Surgery; Extracapsular Cataract Extraction Versus Phacoemulsification
Aftab ur Rehman, Asif Mehmood, Irfan Aslam Khattak, Amer Shahzad, Maheen Akbar
The study was conducted to compare the frequency of cystoid macular edema, diagnosed on Optical Coherence Tomography in patients after ECCE versus phacoemulsification. A total of 200 cases were selected and were divided randomly by lottery method into 2 Groups. Group A included those who had to undergo ECCE and B included those who had to undergo phacoemulsification. In group A, Cystoid Macular Edema (CME) was diagnosed in 23 (23%) cases, while in Group B, Cystoid Macular Edema (CME) was diagnosed in 9 (9%) cases.
Results of FP7 Ahmed Glaucoma Valve Implant in Refractory Glaucoma Cases
Mahmood Ali, Farah Akhtar
It was a prospective, non-comparative, interventional case series, conducted to report the clinical outcomes of FP7 Ahmed Glaucoma Valve implant in refractory glaucoma cases. All cases were performed by a single surgeon using a standard technique. A total of 34 eyes of as many patients were included. At one-year post-operative period, IOP was successfully controlled in 19 (55.88%) eyes without any additional antiglaucoma medicines. Post-operative complications included transient hypotony in 6 (17.64%) eyes, spontaneously resolving choroidal detachment in 4 (11.76%) eyes and tube exposure in 2 (5.88%) eyes.