Current Issue
Vol. 18, No. 1,
Jan-Mar 2022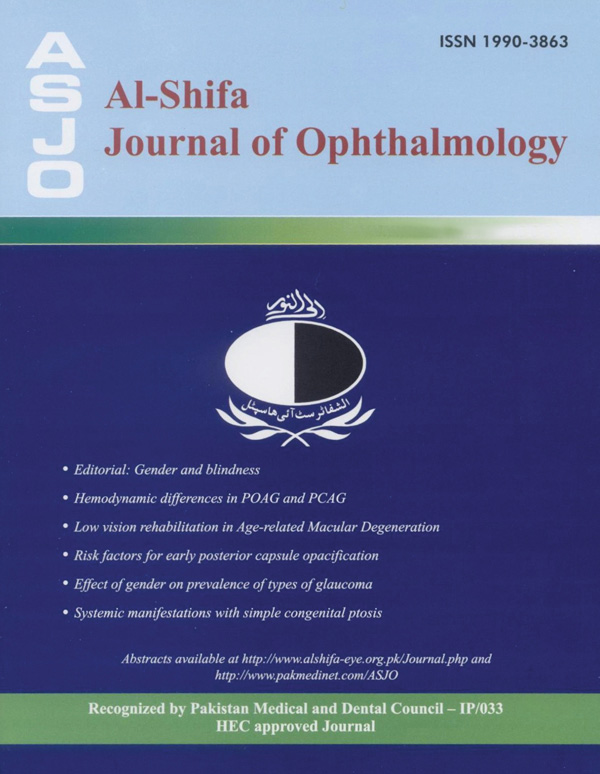 Past Issues - Vol. 14, No. 2, April - June 2018
Al-Shifa Journal of Ophthalmology
Editorial: Evolving Paradigms in the Management of Retinoblastoma
Sorath Noorani Siddiqui

Comparison of the Ruit and Modified Blumenthal Techniques of Manual Small Incision Cataract (MSICS) Surgery
Munir Amjad Baig, Shakeel Ahmad Faiz, Qazi Waheedullah
This was a prospective, non-randomized study of 20 months duration was conducted to report the place and relevance of manual small incision cataract surgery (SICS) in our setup. Two groups of equal halves were made. Group 1, n=250 undergoing Blumenthal and the other group, n=250, Ruit technique. Postoperative visual acuity, surgically induced astigmatism and intraoperative and postoperative complications were compared. Satisfactory results were obtained with Blumenthal (82%) and Ruit (85%) techniques.
Awareness of Diabetic Retinopathy in Diabetic Patients at Divisional Headquarters Teaching Hospital, Mirpur, AJK
Saba Haider Tarar, Waseem Ahmed Khan, Muhammad Irfan Sadiq, Mussarat Jabeen, Muhammad Usman Sadiq, Sara Najeeb
This cross-sectional observational study was conducted over a period of one year on diabetic patients visiting a Divisional Headquarters Teaching Hospital. A questionnaire was filled by a skilled interviewer who recorded the information including demographic details, education level and patients' awareness about ocular complications of diabetes followed by fundus examination using non-mydriatic fundus camera. The patients were divided into 5 groups according to their educational levels and 3 groups according to the duration of disease. The knowledge about diabetic retinopathy and its treatment was inadequate along with poor compliance with annual fundus examination. This was directly related to the educational level of the patient and the duration of diabetes.
Papilledema in Meningitis in Paediatric Patients admitted at a Tertiary Care Hospital
Ashfaq ur Rehman, Usman Attique, Afzal Qadir, Abdul Aziz, Mohammad Israr, Amir Shehzad
This prospective descriptive study was conducted to determine the frequency of papilledema in meningitis in child age group admitted at paediatric unit, Hayatabad Medical Complex, Peshawar. Fundi of 178 patients admitted in paediatric units and clinically diagnosed as having meningitis were thoroughly examined either with the help of direct ophthalmoscope or slit-lamp. Different aetiologies based on lumber puncture included; 43 % patients having bacterial meningitis, 33% TB meningitis and 15 % having viral meningitis. Papilledema was observed in 5.61 % of patients.
Prevalence of Astigmatism in School Going Children in Azad Jammu and Kashmir
Mohammad Irfan Sadiq, Waseem Ahmed Khan, Saba Haider Tarar, Kanwal Abbasi, Muhammad Usman Sadiq, Sara Najeeb
This cross-sectional observational study was conducted in school going children in Azad Jammu and Kashmir to assess the prevalence of astigmatism and most common type of astigmatism. Each eye was considered as a separate individual data. Total 1000 eyes were taken for the study with the age ranging from 5 – 16 years. Astigmatism was detected in 308 eyes (30.8%), 212(68.83%) were females and 96(31.16%) were male. Predominantly, With the rule myopic astigmatism was seen in 135eyes (43.83%).
Strabismus in Patients with Low Vision Visiting a Tertiary Eye Care Setting in Rawalpindi
Saman Malik, Ume Sughra, Sumaira Altaf, Sultana Kausar, Amna Ahmad, Muhammad Imran
A descriptive cross-sectional study was conducted to estimate the frequency of strabismus in patients with low vision in a tertiary eye care setting. One hundred and seventy patients with decreased vision from the Low vision department from June 2016 to December 2016 were included. Cover test was performed at both short and long distance to assess strabismus. Out of 170 patients, strabismus was found to be in 114 patients (67%). Out of 114 strabismic patients, 64 patients (56%) were diagnosed with acquired strabismus while 50 patients (44%) had congenital strabismus. Retinitis pigmentosa was found in 34% of the patients while 12% had myopic degeneration.
Frequency of Diabetic Retinopathy Among the Known Diabetic Patients at a Tertiary Care Eye Hospital
Mahmood Ali, Sarah Zafar, Muhammad Sadiq, Farah Akhtar, Wajid Ali Khan
This cross-sectional observational study was conducted to report the frequency of diabetic retinopathy among the known diabetics presenting for the first time at Al-Shifa Trust Eye Hospital (ASTEH) Rawalpindi. Diabetic Retinopathy was graded according to International Clinical Diabetic Retinopathy and Diabetic Macular Edema Disease Severity Scale. Out of 200 total participants, retinopathy was detected in 105 (52.5%) patients among which 44 (22%) patients had Proliferative retinopathy and 57 (28.5%) patients had diabetic macular edema. Severity of diabetic retinopathy was significantly associated with age (p=0.004), duration of diabetes (p>0.001) and blood sugar status (p=0.001).