Current Issue
Vol. 18, No. 2,
Apr-Jun 2022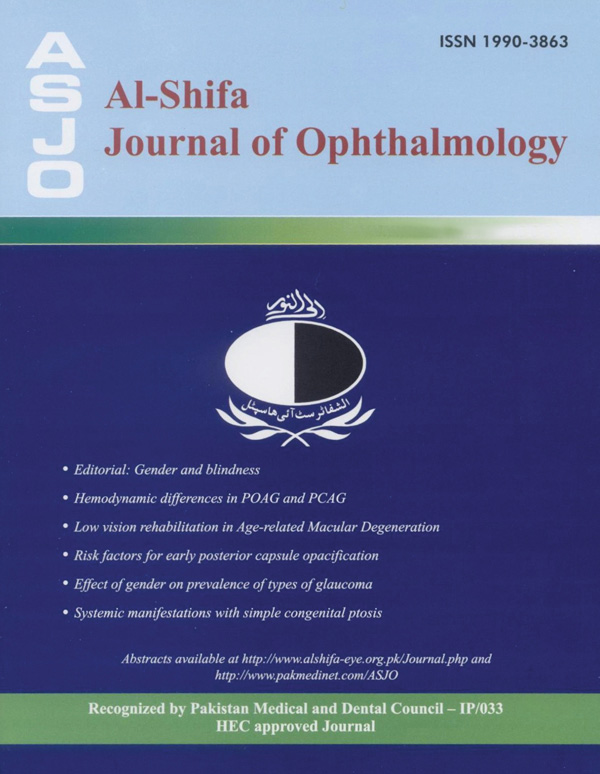 Past Issues - Vol. 14, No. 1, January - March 2018
Al-Shifa Journal of Ophthalmology
Editorial: The Advent of Femtosecond Laser - Changing Paradigms in Corneal Disease Management
Francisco Bandeira, Hassan Mansoor

Frequency of Juvenile Onset Myopia in Children Between 7 to 16 Years of Age
Muhammad Hanif, Syed Hassan Massana, Sana Zahra
This descriptive, cross-sectional study was conducted to determine the frequency of juvenile onset myopia in children between 7 to 16 years of age. A total of 300 children, aged between 7 and 16 years, presenting with decreased vision for at least 1 month or longer (as diagnosed on logMAR chart with values greater than 0.3 which is equivalent to 6/12 on Snellen) were included. According to study objective the patient age was categorized from 7 to 16 years. This study concluded that there is a high frequency of juvenile onset myopia with higher percentage between 13-16 years of age and in females.
Association of Pterygium with Dry Eye: A Health Professional Dilemma
Sadia Arif, Ayesha Babar Kawish, Khizar Nabeel Ali, Abdullah Naeem Syed
This study was conducted to assess the pterygium effects on dry eye, identified by clinical tests and to find association between dry eyes and pterygium. A total of 102 eyes of 60 patients with pterygium, who visited OPD of Al-Shifa Trust Eye Hospital, were included in this study. Status of pre-corneal tear film, tear film breakup time, Schirmer test with anesthesia and Schirmer test without anesthesia were performed along with grading of pterygium. Patients with pterygium were found having decreased tear production, decreased tear film breakup time test and decreased Schirmer test values.
Comparison of Rise in Intraocular Pressure After a Single Intravitreal Injection of Bevacizumab and Triamcinolone Acetonide
Zulfiqar Ali Khan, Muhammad Kashif Habib, Nighat Jabeen
This randomized clinical trial was conducted at Retina Clinic of Al-Shifa Trust Eye Hospital, Rawalpindi to compare the rise in IOP after a single intravitreal injection of bevacizumab versus triamcinolone acetonide. Sixty patients were divided into two equal groups by non-probability consecutive sampling. After an informed consent, Group 1 was given 1.25mg/0.05ml intravitreal bevacizumab (IVB) injection and Group 2 was given 4mg/0.1ml intravitreal triamcinolone acetonide (IVTA) injection. IOPs were recorded before injection and 30 minutes, 1 day, 1 week and 4 weeks post injection.
Prevalence of Computer Vision Syndrome (CVS) Symptoms and Its Awareness Among Software Engineering Students of Twin Cities
Sultana Kausar, Ume Sughra, Wajid Ali Khan, Khizer Nabeel
It was a descriptive cross-sectional survey done on 350 university students of twin cities (Rawalpindi / Islamabad) to determine the prevalence of computer vision syndrome (CVS) symptoms, knowledge and practices of computer use in students studying in different universities and to evaluate the association of various factors with the occurrence of such symptoms. Prevalence of symptoms of CVS was found to be 87.7 %. The most disturbing symptoms was headache (57.7%) followed by eye strain (57.10%).
Pharmacological Aspects and Utilization of Topical Antiglaucoma Drugs
Muhammad Sadiq, Saima Jabeen, Yousaf Jamal Mahsood, Farah Akhtar
This study was conducted to evaluate the utilization of topical antiglaucoma eye drops at a tertiary care teaching eye hospital. Data was obtained from computer record of the hospital and included only quantities and brand names of eye drops utilized and dispensed at main pharmacy of the hospital. The antiglaucoma drugs were then segregated from the whole data and then divided into six groups. All the groups and individual drugs were analyzed with respect to their utilization pattern for 3 years and their pharmacological aspects were discussed and reviewed by using Google scholars and PubMed research.
Pattern of Childhood Ocular Disorders in Patients Presenting at a Hospital of District Chakwal
Habiba Nisar, Momina Javed, Amna Yaqub, Fareeha Ambreen, Sohail Ahmad
The objective of this cross-sectional study was to find out the pattern of various childhood ocular disorders and prevalence of refractive errors in children presenting at eye department of a secondary care hospital. The study included 235 patients who fulfilled the inclusion criteria. Visual acuity, presence and type of refractive error were measured. Strabismus and amblyopia was also assessed. All patients were then referred to ophthalmologist for diagnosis of ocular diseases if present and noted. In case of ocular injuries, the source of injury was asked and noted.
Bilateral Optic Nerve Aplasia in a pre-school child
Aziz Jan Bashir, Zeeshan Khan Oozeerkhan, Mohamud Walid Peerbux
A 4-year-old girl presented to the Vitreoretina OPD of Al-Shifa Trust Eye Hospital with absence of vision since birth. Ultrasonography showed clear vitreous with flat retina in each eye. Posterior segment showed absence of optic discs, retinal vasculature with prominence of choroidal vessels. Her cycloplegic refraction was +4.0 D in both eyes and OCT showed absence of the retinal ganglion cell layer. A neurological examination was done in a tertiary care hospital and showed normal milestones of development.