Current Issue
Vol. 18, No. 2,
Apr-Jun 2022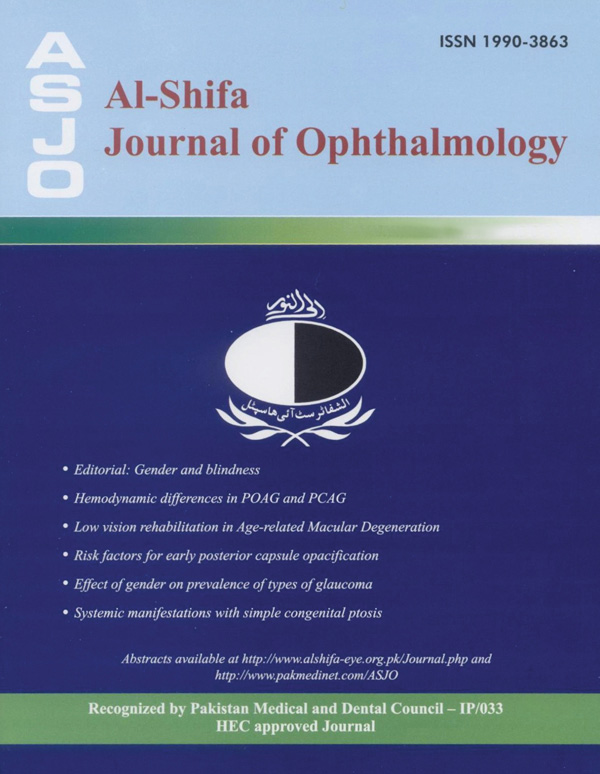 Past Issues - Vol. 13 , No. 3, July - September 2017
Al-Shifa Journal of Ophthalmology
Editorial: Immunosuppressant Drugs and Ocular Inflammatory Conditions
Muhammad Sadiq

Clinical Audit of Patients Presenting at Department of Glaucoma as part of Glaucoma Fellowship Program
Yousaf Jamal Mahsood, Muhammad Naeem, Hussain Ahmad, Irfan Ullah, Saima Farooq, Farah Akhtar
This observational cross-sectional study was conducted to report the different types and outcome of glaucoma presented during one-year glaucoma fellowship at Al-Shifa Trust Eye Hospital, Rawalpindi. The duration of this study was from 1st July 2015 to 30th June 2016 and 2728 eyes of 1440 patients were included. Primary open angle glaucoma was the most common type, diagnosed in 868 (31.61%) eyes followed by pseudoexfoliation glaucoma in 408 (14.95%). Medical treatment was the most common mode of treatment given to 1740(63.78%) eyes while trabeculectomy was performed in 161 (5.9%) eyes.
Role of B-Scan in Evaluating Posterior Segment Pathologies in Opaque Ocular Media
Fariha Taimur, Tehmina Nazir, Badruddin Athar Naeem
This study was conducted at the Ophthalmology department, Fauji Foundation Hospital to determine the diagnostic accuracy of B-scan ultrasonography in detecting posterior segment pathologies in patients of dense cataract, keeping postoperative fundoscopy findings as a gold standard.Total 333 patients were included in the study according to the inclusion criteria of the study. The sensitivity and specificity of B-scan ultrasonography in detecting posterior segment pathologies was 91.67% and 100% respectively.
Compliance of spectacles wear in School going children in District Rawalpindi
Saman Waqar, Ishtiaq Suleri
This cross-sectional study was conducted to report the compliance of spectacles use and determine the reasons of non-compliance among school going children in District Rawalpindi. Sample comprised of 441 students who had been prescribed spectacles for constant wear during school screening program done by Al-Shifa Trust. Information on age, gender, school system, type of refractive error etc. was collected and analyzed to find the association of different factors with compliance of the respondents.The compliance rate was found to be 41%.
Barriers for spectacle users in choosing contact lens as an alternative vision correction method
Shamsa Sarwar, Tayyab Afghani, Saman Waqar
This cross-sectional study was conducted to report the barriers for spectacle users in using contact lenses as an alternative vision correction method and to analyze their preferences regarding known vision correction tools. The study included 350 spectacle wearers; out of which 238 were females and 112 were males with mean age of 21.15+3.57. The major barrier found towards contact lens use among spectacle users was fear of side effects (65.3%) and inconvenience of its use (54.6%), followed by care and maintenance (52.4%).
Effectiveness Of 0.05% Cyclosporine-A Eye Drops for Allergic Conjunctivitis in Terms of Improvement in Ocular Itching Score
Muhammad Sajid, Hussain Ahmad, Maqsood Ahmad, Ubaidullah
This study was conducted in the department of Ophthalmology, Khyber Teaching Hospital Peshawar from July 2015 to Jan 2016 to determine the efficacy of 0.05% Cyclosporine-A eye drops for allergic conjunctivitis in terms of improvement in ocular itching score. A total of 259 patients were included; mean age was 17 years with SD ± 3.38. Cyclosporine-A was effective in 228(88%) patients and was not effective in 31(12%) patients.
Post-Operative Complications After Reconstruction of Contracted Socket Using Amniotic Membrane
Tehmina Nazir, Fariha Taimur
This quasi-experimental was conducted to report the rate of post-operative complications after reconstruction of contracted socket using amniotic membrane. Amniotic membrane used in study was prepared at Al Shifa Trust Eye Hospital. Reconstructive surgery and amniotic membrane transplantation was performed by same surgeon under GA. Patients were followed up in outpatient department for 3 months to observe the post-operative complications. The study concluded that amniotic membrane grafting gives cosmetically and functionally acceptable results with minimal post-operative complications.
Congenital cystic eye ball with an intracranial anomaly: A Case Report
Maheen Akbar, Amna Manzoor, Sunday Okonkwo
A 3 months old female child presented to Al-Shifa Trust Eye Hospital with abnormal protrusion from the left orbit since birth which increased gradually in size. The mass was cystic in consistency, non-tender, non-pulsatile and transilluminated light. No eyeball could be identified. MRI brain and orbit revealed a cystic orbital mass with complete agenesis of corpus callosum, with no other associated brain anomaly. Her systemic evaluation was unremarkable at 3 months. Routine haematological and biochemical tests were also normal.