Current Issue
Vol. 18, No. 1,
Jan-Mar 2022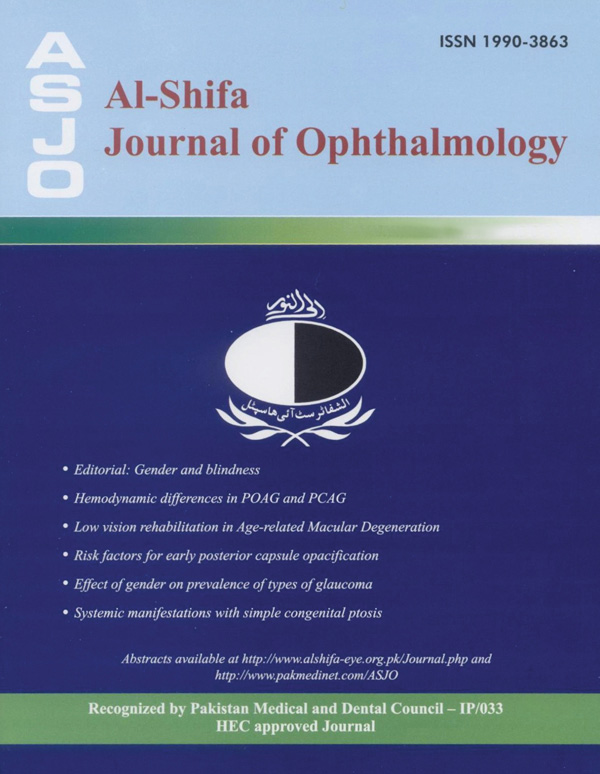 Past Issues - Vol. 12 , No. 3, July - September 2016
Al-Shifa Journal of Ophthalmology
Editorial: Factors affecting corneal penetration of drugs
Muhammad Sadiq

Trabeculectomy versus Combined Trabeculectomy and Cataract Surgery with 5-Fluorouracil in Pseudoexfoliation Glaucoma
Yousaf Jamal Mahsood, Hussain Ahmad, Muhammad Naeem, Irfan Ullah, Saima Farooq, Muhammad Sadiq, Farah Akhtar
Past records of patients with pseudoexfoliation glaucoma (PXF-G) who had undergone trabeculectomy with 5-Fluorouracuil (5-FU) (Group 1) or combined trabeculectomy and cataract extraction (Group 2) with 5-FU were obtained and analyzed. A total of 40 patients were included with 20 in each group. The primary outcome, effect on intraocular pressure (IOP), was compared between the two groups.
Prophylactic Diclofenac versus Betamethasone in Preventing Postoperative Cystoid Macular Edema after Uneventful Phacoemulsification
Anique Ahmad, Adnan Aslam Saleem, Yawar Iqbal
This randomized study comprised 60 eyes, 30 in each group. After cataract surgery, patients were randomly divided into two groups. Group A was given Diclofenac Sodium 0.1% eye drops; Group B was given 0.1% Betamethasone eye drops. Change in central macular thickness (CMT) before and 6 weeks after surgery was compared between two groups. Drug was considered effective if the CMT didn't increase more than 15 microns (µm) from baseline value, 6 weeks after cataract surgery.
Comparison of Intravitreal Bevacizumab with Combined Intravitreal Triamcinolone and Bevacizumab in the Treatment of Clinically Significant Macular Edema
Farhan Ahmad, Yaseen Lodhi, Adnan Aslam Saleem, Danish Gani, Farah Akhtar
This Randomized Control Trial was conducted in Retina Clinic of Al Shifa Trust Eye Hospital, Rawalpindi from July 2013 to August 2014.Five sixty patients were randomly assigned either to IVB or IVB plus IVTA treatment. Patients with CSME were followed for four weeks to note any reduction in central macular thickness (CMT).
Pattern of Posterior Capsular Opacification in Extra Capsular Cataract Extraction versus Phacoemulsification Using Different Types of Intraocular Lenses
Mohammad Siddique, Faisal Rashid, Hina Khan, Mahmood Saeed
This descriptive type cross sectional comparative study was conducted at Ophthalmology department of Sheikh Zayed Medical College/Hospital Rahim yar khan from June 2015 to June 2016. A total of 130 subjects were included in this study by using non-probability convenient sampling technique. Relationship of various factors like type of surgery, IOLs and systemic diseases with the development of PCO was studied.
Cyclosporine A Eye Drops: Its Effects and Complications in Vernal Keratoconjunctivitis
Hussain Ahmad, Yousaf Jamal Mahsood, Muhammad Naeem, Muhammad Sajid Khan, Maqsood Ahmad, Ubaid Ullah
This study was conducted to evaluate the efficacy, safety, and therapeutic effect of topical cyclosporine A drops in vernal keratoconjunctivitis patients. Forty patients with active vernal keratoconjunctivitis diagnosed at least one year before and treated with a varietyof topical medications including steroids were included in the study. All patientswere treated with 0.05% cyclosporine eye drops four times daily in both eyes for 4weeks. Any improvement in the symptoms and signs were noted and analysed.
Association Between Dry Eyes and Anti-glaucoma Medications: A Case Control Study
Hamida Munir, Mahmood Ali, Ume-Sughra, Farah Akhtar
This case control study was conducted at the Glaucoma department of Al-Shifa Trust Eye Hospital Rawalpindi, to identify the association between dry eye syndrome and anti-glaucoma medications. Study sample comprised of 100 patients on anti-glaucoma medications and 100 controls. Tear break up time (TBUT), Schirmer test and Tear meniscus height were used to evaluate dry eye.